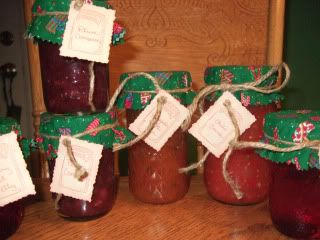 There are so many cool gift-in-a-jar recipes on the web, for soups, cakes, cookies, not to mention gifts like homemade jams and jellies. We are giving some of the latter this year, and I wanted to 'cute up' the jars.
Have you ever tried to tie a circle of fabric on the top of a canning jar? It seems that no matter what I do, or how I try, I don't have enough hands to get the fabric straight, keep it in place, tie a knot, and have it look even remotely centered. Using a rubber band or ponytail holder to hold the fabric in place makes the whole process much, much simpler. It saved me a lot of time and trouble.
You will need:
-fabric
-ribbon or twine
-labels if you like them
-a rubber band or ponytail holder
-pinking shears
-a template for the circle (I used a roll of tape - you could try a plate or bowl too)
I like things with a country or homespun look, so that will be reflected in my choices for fabric, ties, labels, etc. You could easily make this more modern or more elegant with different choices. This is the fabric I chose, very likely the compliments of Mom, who is always giving me pretty fabric for all sorts of projects.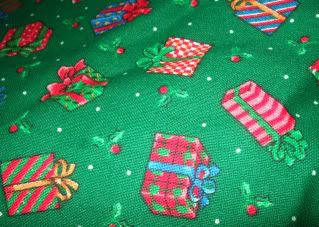 After a light pressing to knock out the big wrinkles, I drew circles on the back side of the fabric, then cut the circles with pinking shears and set them aside. (Pinking shears are those scissors that cut a 'zigzag'. They are great because the fabric won't unravel like it will with a plain cut, plus the
zig
-
zag
-
iness
of the cut hides the fact that I can't cut out a perfect circle.)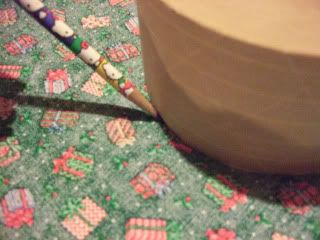 All my jars are standard size - if you are covering wide-mouth jars you will need bigger circles. It's a good idea to try one before you cut a lot of circles. That way, you can adjust the size larger or smaller as needed.
I'm tying mine with sisal twine, but the ponytail holder is very, very useful in this step too.
First, use the ponytail holder (or rubber band) to get the fabric in place on the lid. Once you have it centered,
scootch
the ponytail holder a little up, or a little down, from where you plan to tie the twine or ribbon.
Next, tie the twine (or ribbon) so that the fabric is held securely in place. Make a square knot so that it doesn't come loose over time. Keep your fingers (and camera straps) out of the center while tying the square knot. Trust me on that one.
hee
.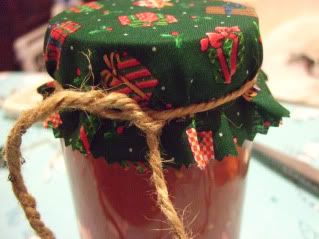 Now that the twine (or ribbon) is holding the fabric, remove the ponytail holder (or rubber band), and use it to secure the next fabric circle (on the next jar) for tying. If you like, you can tie a bow. Tie it big, then tie it as a double knot so it doesn't slip. Again, avoid tying fingers, camera straps, etc. into this knot. This is a regular bow - once I double tied it it was more in proportion to the jar.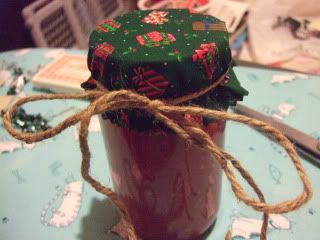 You can call it done right there if you like. I wanted to play with stamps, so I made some little labels. I used a jar stamp, then wrote the name of the food item inside the wee jar. I used deckle shears to cut the edges (that's what that little 'bumpy' edge is all about), and then lightly sponged some of the ink color along the edges. This gives them a bit of an aged, country look. Finally, I punched holes in the corner of each label. You could easily use
pre
-made holiday labels too.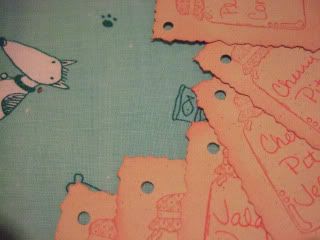 I threaded each label onto a jar, making sure the plum conserve labels went on the plum conserve, the chili sauce labels on the chili sauce, etc. Then I tied a knot to keep the label in place.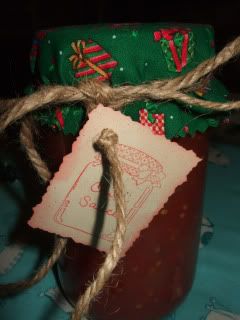 That's it! I did the remaining jars without a bow - I liked the simpler look of a plain tie and the label. Cute, yes? Easy too...give it a try on your next gift-in-a-jar.