I don't know if I'll ever truthfully say the sentence, "My house is organized." Heck, I don't know if anyone can. Lately, I've been taking the place that bugs me the most, organizing it, and then moving on to another one.
One of our latest messy spots was the front entry. We don't use our back door a whole lot, for whatever reason. Maybe when we get the garage built that will change, but for now, the front door is where all the stuff seems to gather.
It wasn't terrible - we have hooks for coats, a rug to stop some of the dirt, and a bench to take off/put on shoes (we are a no-shoes-in-the-house family). The biggest problem was the shoes, and the second biggest was hats, mittens and scarves.
Pie safe to the rescue!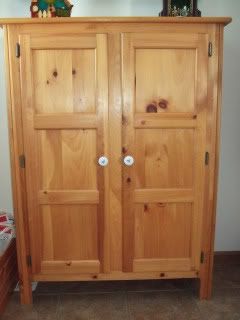 We got this pie safe a long time ago - 15 years or so - and there's not really anywhere to keep it in this kitchen. In the past it has been the pantry, the microwave stand, a book holder, a keeper of blankets - now it is storage for shoes, book bags and winter gear.
I had some woven rugs in the basement that we weren't using, so I folded those to fit onto the two bottom shelves. That gives us room for several pairs of shoes and/or boots, and the rugs will soak up any melting snow. On the top shelf we re-purposed three mailing boxes (that had come to us as care packages from family) for individual bins for gloves, hats, scarves, etc.
Check out the labels! Little Bit wrote her own, plus the put them on the boxes for me. (Thanks, sweetie!)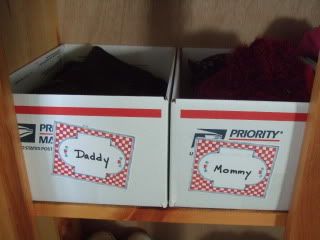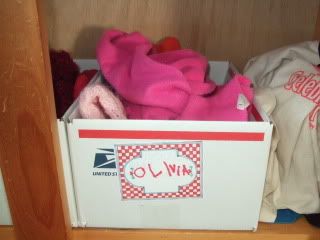 That leaves us with a small space (to the right, top shelf) for empty canvas bags. We keep most of them in the car, but it's nice to have a few indoors to load up library returns, take something to a neighbor, etc.
This 'tiny pocket of organized' didn't cost us a thing - the pie safe was available, the boxes were here, the labels are from the craft room and the rugs were in the basement taking up space. I love it when I can use stuff I already have to solve my problems!
So, tell me...where/what is the most organized space in your home...and where/what is the least organized? (My worst is the futon couch in the basement, where, as I declutter, I'm putting all the stuff we no longer want/need/can think of anything to do with. Scary, that!)