We had a great week!
First - Did you know that you can use coupons in conjunction with WIC? You can. If your child/ren get a dollar amount for fruits and vegetables, you can really stretch it with some coupons. Today, we got all this at Albertson's (kid not included):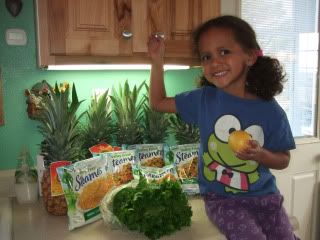 6 DelMonte Gold fresh pineapples. On sale for $1 each, and we used six .75/1 online coupons from coupons.com so all six were 1.50
6 Green Giant Steamers, 12 oz. On sale for $1 each, we used five .50/1 online coupons from coupons.com and one .40/1 coupon from a recent insert so all six were 3.10
1 head leaf lettuce, on sale for $1.
1 lemon, on sale for .34 (she really, really wanted that lemon - more than a banana!)
Total: 5.94, which was covered by the $6 WIC check.
I'm bringing this up because the cashier told me, "I've been doing this for seven years, and I think you are the first person to use coupons with WIC." I think that a lot of people don't realize that it's perfectly fine to use coupons with this program - I assure you that it is! If you want to double-check, call your WIC educator and make sure. Just FYI, lots of cashiers don't realize that it's OK to use coupons, but I've never had a problem anywhere (they just check with someone and find out it's OK).
I also had a coupon for $2/1 TP, and it was marked 1.69. The cream cheese was on sale, so I snagged one to use the overage if they took off the entire $2. They didn't, so I got both of these for $1.13 - still not bad!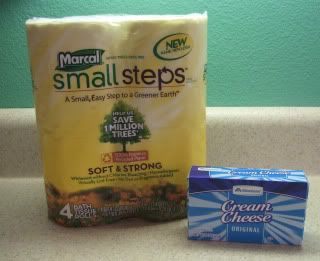 Then, King Sooper. Mercy me, these Mega-Deal specials make my head spin! They had everything I went there for except for the Playtex Gloves. I didn't have a coupon for them, but they were 49 cents, and they last me forever (because I don't wear them much, just for extra-grody jobs). Anyway, look what we got!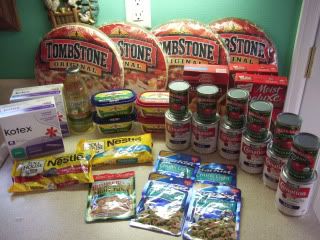 2 boxes Kotex 1.99 each, minus an insert coupon for $1.50/2 ($1.24 each)
2 bags Nestle' chips for 1.49 each minus .50/1 insert coupons, which doubled (.49 each)
4 StarKist tuna 1.25 each minus .50/1 printables - doubled (.25 each)
1 BumbleBee tuna .49 minus .55/1 insert - doubled (.50 moneymaker)
4 Tombstone pizzas 1.99 each minus two $1.50/2 insert coupons (1.24 each)
2 DuncanHines cake mixes $1 each minus .50/2 insert coupon - doubled (.50 each)
1 Betty Crocker potatoes .99 each minus .40/1 printable - doubled (19 cents)
6 Carnation evaporated milk .49 each minus .50/2 printables/inserts - doubled (.03 moneymaker on all six)
6 Muir Glen organic tomato paste 1.19, buy one get one free, minus three $1/1 coupons (.57 for all six)
1 Snapple tea $1 minus .50/1 printable - doubled (free)
4 LandOLakes butter spreads .99 each minus .50/1 insert and printable coupons (made .01 on each)
Total cash for everything: $10.58
and...I got a catalina coupon from Tombstone Pizza for $2 off my next shopping trip.
I could still print some coupons on my other computer and make another stop for free/nearly free/moneymakers, but I'm not sure if we'll be in town again before Tuesday (though I'd love to get those gloves if they have more in stock). We did really well, though - total spent for the entire day was $11.61 for everything. :)
And you know what's really cool? When we got home, there was a $10 check from Kellogg's for the cereal rebate back in September(I spent $6 on cereals to get that $10 rebate). Between that and the Tombstone coupon, we bought all this stuff today and have more money than when we started. (Also, I mailed off a Nabisco rebate this morning - spent $6 to get yet another $10 rebate.) Yay!
Find any good deals this week? Where do you get your coupons? Leave a comment and share the love.