We did very little grocery shopping this week...I haven't been to any supermarkets at all! I'm sure there were some good deals out there, but truth be told, our focus was to use up some of the bounty in our freezer so we could stock up on turkeys for the year.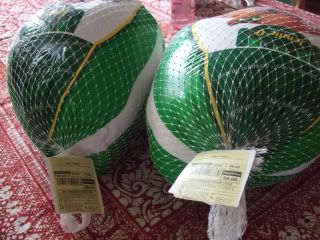 I planned to get four turkeys, but it didn't quite work out. The turkeys were gigantic, so we got two that count as four! Wal-Mart had Jennie-O turkeys for .40 per pound, and the only ones left were honkin' big. They were limit 2 anyway, so it all worked out.
To make room for those big boys, we ate a lot of things from our freezer this week. Back around St. Patrick's day I stocked up on corned beef - Monday we ate the last one from the freezer with steamed cabbage, mashed potatoes (also from the freezer) and whole wheat bread (freezer).
For Tuesday we thawed a chicken and had it with some of the food on our pantry shelves - home-canned green beans, stuffing and fresh pears.
Wednesday I took all the tomato juice out of the freezer. I kept getting little harvests of tomatoes through the summer, so I made the juice and froze it. I used some to make tomato soup for supper (with grilled cheese, abc pasta for Little Bit and pineapple spears) and I'll be canning the rest so it can be out of the freezer. It can go on a pantry shelf once it's canned. Right now it's in the fridge, still thawing. Oh, and the tomato soup used up a container of frozen chicken broth!
Through the early part of the week our desserts were German chocolate cupcakes - we took the leftover, not frosted cupcakes we had frozen from Little Bit's birthday and put coconut-pecan frosting on them.
The tail-end of the week is mostly focused on using up leftovers from earlier in the week, but we managed to pull out a pack of English muffins and some cheese for barbecue chicken mini-pizzas too!
All that freezer emptying made enough space for turkeys with minimal scooting, pushing, smushing and cramming. I didn't even have to sit on the lid!
So, what does a family of three do with a 24 pound turkey? When we are ready for turkey, I will thaw one partially and part it out. As soon as it's thawed enough for me to get a knife in it, I cut it up like a giant chicken, prepare some of the meat for various future meals and wrap and freeze it. I do all this while it's still part frozen - there are ice crystals in the meat. Here are a few ideas:
A single turkey breast from a turkey that big will give us a lot of meat. Sometimes we cut the breast meat across the grain and make steaks, then we marinade and grill them. If I roast a whole breast, I slice some when we eat it for supper, then refrigerate it before slicing the rest. I can cut the slices much thinner once it's cold, and they are nice for sandwiches. Little scraps or cubes are great in enchiladas, turkey chili, etc. If nothing else, I freeze cooked pieces for later, so we don't get sick of it.
The meat from the thighs is really good cubed, soaked in teriyaki and grilled. We also like it in stir fry in place of pork, or ground up and mixed with ground beef - we call that 'burkey' hee hee. Another way I like to use dark meat from turkey is just roast it, shred it and mix it with barbecue sauce for sandwiches.
I just about always grind the meat from the legs. All those weird sinew tendon things make turkey legs less than easy to eat. I just remove as much of the meat as I can, grind it, then simmer the rest of it in water to make broth with meat for soup. That said, one time on a whim I brushed a turkey leg with liquid smoke and slow roasted it in the oven, basting it now and then. It was a lot like those turkey legs you can get at the fair or at carnivals - yum!
The wings can be a little tough sometimes. I cut them into segments and cook them in the crock pot, then toward the end of cooking I add some butter and red hot sauce for giant hot wings! If you don't like hot wings, you can always roast or simmer the wings for cubed turkey for salads, casseroles, etc. There are plenty of possibilities.
Finally, the frame. There is a lot of meat on the ribs, back, etc., so we get out the biggest pot we have, put the whole deal on the wood stove and let it simmer all day. I season the stock with herbs and vegetables then freeze it in useable amounts, and remove all the meat for soups, chili, barbecue, etc. By the time we are done, we get many, many meals, and since they are spread out over time (using one part at a time), we don't get sick of turkey.
So, tell me - what's your favorite turkey meal?