We're getting enough cold weather these days that I brought up the old coffee table and put it in the family room. Through the year I watch for good sales on jigsaw puzzles. They run 49-99 cents at Goodwill, sometimes less at yard sales. (Did you know they are $7-$10
and up
in the stores now - oh my!)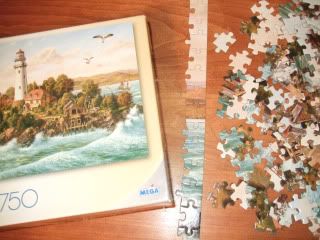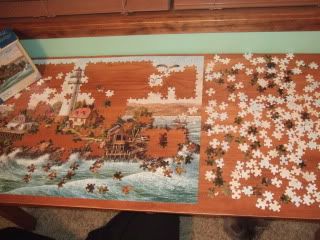 Anyway, puzzle season has begun. I like doing them, and hubby does too. Now that Little Bit is old enough, I can start one and leave it until later, which is really nice! This one took a few days, and we've since done another.
When we're done with them, we either share them with a friend or mail them to my mother-in-law, who also likes doing them. I don't have any research to back me, but I think that assembling jigsaw puzzles is good for the brain. Fitting all those pieces is relaxing, and it clears my head at the same time. It's almost like meditation, without the white wall and the falling asleep part.
Do you like jigsaw puzzles? What do you like to do once the weather turns cold and you're indoors? I bet we share some hobbies and interests!