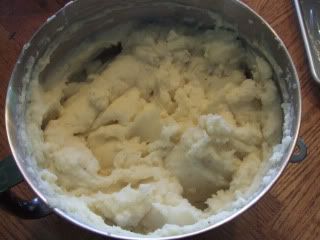 Once the potatoes from our garden were cured I went through them and removed all the ones with nicks, bonks and soft spots. This morning I peeled and cubed about half of the culls and made mashed potatoes. Lots and lots of mashed potatoes.
The good news? Mashed potatoes freeze beautifully, so I shouldn't have to make mashed potatoes for a long, long time.
I had so many that I had to do half at a time in my mixer. I kept them pretty simple - assorted potatoes - Kennebec, Russets, Yukon Gold and Red Skins (but no blue ones), salt, pepper, a little butter, milk. Oh, and some chicken stock - it bumps up the flavor nicely without adding fat.
I'd never whipped potatoes in the mixer before. I learned right away to start out on speed 1...and then move through the speeds s-l-o-w-l-y, lest you end up with your mashed potatoes decorating the walls.
In the end, you need to whip 'em.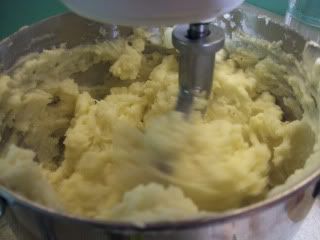 Whip 'em good!
I wanted some of them single serving style. I learned this from some wonderful online friends, and it works great!
First line some pans with plastic wrap.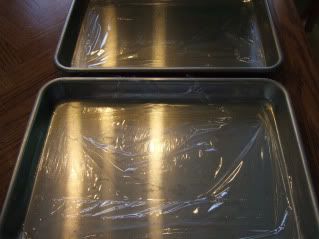 Use an ice cream scoop, and make measured portions.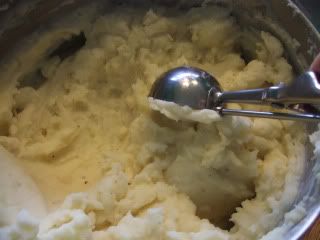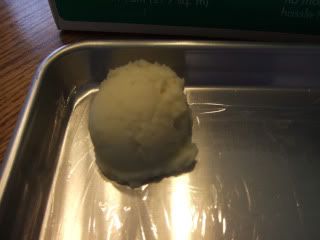 Repeat until the pans are full.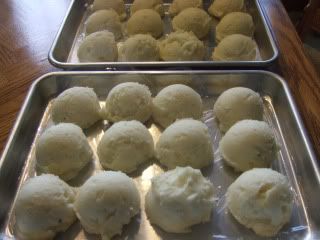 Each scoop is 1/4 cup. If I want to get out 'just enough' mashed potatoes, I can use one scoop as a child serving and two scoops as an adult serving. Right now, I'm popping them all in the freezer until they are frozen solid. In the upper left of the photo are two containers of mashed potatoes too - each would fill a serving bowl for a Sunday dinner, or possibly Thanksgiving! The bowl on the bottom left is going in the fridge, and we'll warm them up for supper tonight.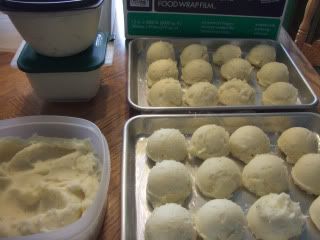 Once they are frozen, transfer them to a freezer container. I'm putting a layer of plastic wrap (I'm re-using one from the tray) between the layers of potato scoops.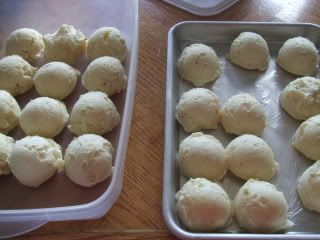 Label the container and keep it in the freezer. That's it!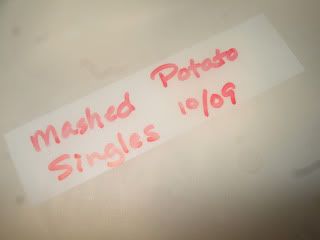 One thing you should know is that when you thaw potatoes, they look watery and separated. However, when you re-heat them (I do it in the microwave) they come back together beautifully, and the look/taste/texture is just like freshly made mashed potatoes. Put them in a bowl to re-heat, and everything will be just fine!
So the next time you find yourself overwhelmed with potato excess, or the next time there is a superfantastic sale, make some mashed potatoes for the freezer and you'll be ready for several meals to come.