Well, that's the plan, anyway. This is going to make it much easier for Little Bit to put things away all by herself. It also helps her learn a few words, and makes her mama happy.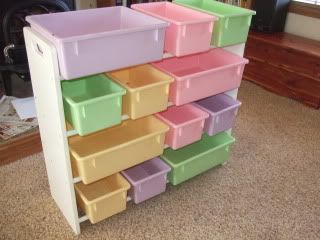 This was given to me by a friend. A very nice, generous, wonderful friend. I LOVE these. They just plain rock.
First, I convinced Little Bit to put all of her toys into the big blue laundry basket so I could put them in storage and rotate out new (meaning, she hasn't seen them in a while and forgot that she has them) toys. New toys? WooHoo! She loaded up the old stuff with no regrets.
Whilst she was sleeping I took the big blue laundry basket downstairs, unloaded it and filled it with new toys. Brought them upstairs, and yesterday we grouped them and took pictures.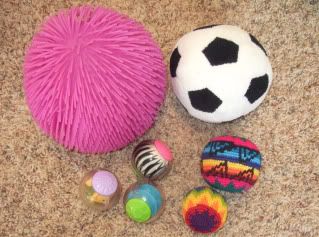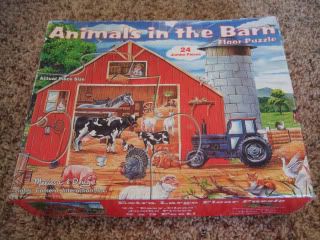 I made three prints of each photo. I just used plain printer paper. Works fine. Back in the day when I was a preschool teacher, there was no such thing as a digital camera. We would save the school supply catalogs and cut pictures from those. Of course, we were often confronted with the dilemma that we needed the puzzle picture on page 37 and the play food picture on page 38, so we had to make choices. We had to beg sales reps for extra catalogs. It was tedious, y'all. You kids these days, with your cellular phones and digital cameras and little music players have it GOOD.
Oh yeah. Toy bins.
I cut out the photos and gathered my other supplies - scissors (which I just used to cut out the photos, I realize that), a marker, index cards and clear contact paper.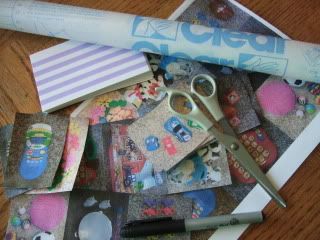 Now, you could just take the stuff to the office store and laminate it, but I have clear contact paper. All of the 'vintage' preschool teacher have it. We just do. So, in the spirit of using up what I have on hand, I'm using that. And these funky index cards, just for fun. I'm writing the names of the items too - how's that for old school? I could have used the printer, but I want this to encourage writing, not perfection. My writing is far from perfect, which is why I have to write each word about 32 times to come up with three that I think are OK.
After all the labels are made and cut out, I cut the contact paper into pieces that will 'laminate' the photo/label to the bin.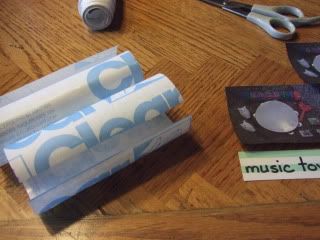 Peel one, and put it sticky side
up
. Then align a photo and the corresponding label in the middle (more or less) of the sheet.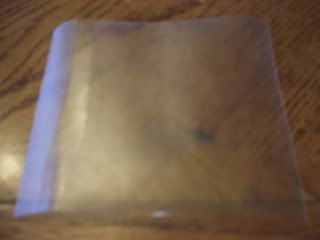 Get it placed just how you want it on the outside of the bin, then smooth it down really well.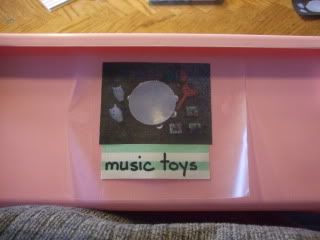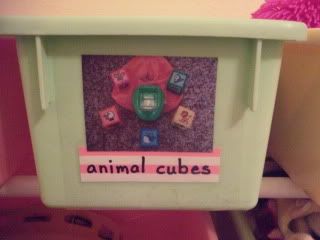 If you only do one, then you will often find that the label doesn't show, because your little sweetie pie put the bin in 'backwards'. So, I put one on the front and the back. I also put one inside the bin, because generally, that's where little kids look when they're trying to figure out what goes into an empty one.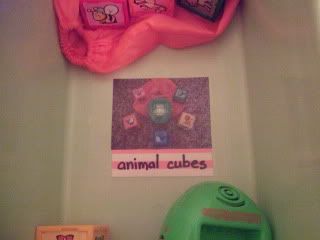 Repeat, repeat, repeat, and have your child help you fill them and put them on the rack.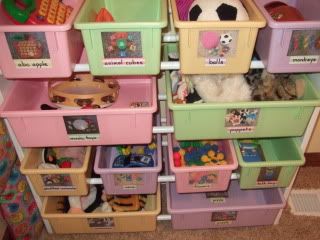 Where does the puzzle go?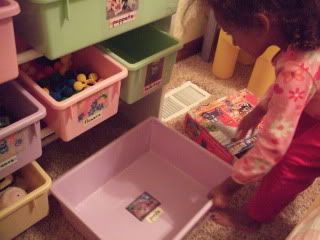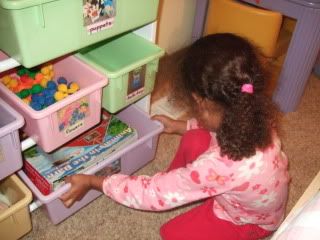 "Right here, Mama." The other beautiful thing about this system is that a bin full of pieces can be carried to another room (we do floor puzzles on the kitchen floor, for example). Then, when she's done with the puzzle, it's easy to transport all the pieces back to her room in the bin (that cardboard puzzle box is on its last legs).
One evening of labeling toy bins, and I never have to pick up toys again. Life is good!
Seriously, the first time takes the longest, because you're doing all of them. After that, I'll generally just rotate 2-3 things at a time. Also, you can save the labels, bag them with the toy they belong to, and next time it'll be that much easier.
I love easy! And I love tidy, even though it doesn't happen very often. Most of all, I love Little Bit, and I hope this will help her develop good habits. :)