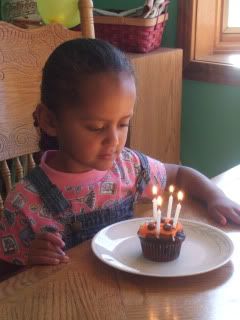 Little Bit is still talking about how much she liked her birthday. We had a lot of fun, but we didn't spend a lot of money. Here's the breakdown, and some ideas for saving.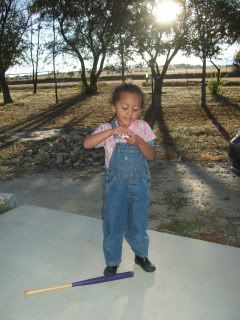 Gifts
.
We focused on things we knew she would like. Since she was always asking for(and sometimes not asking, just getting) the flashlight, we already knew she'd love to have one. I took an inexpensive pink flashlight we already had on hand and gave it a good scrubbin', then added stickers from the sticker drawer in my craft area. We had one set of "D" rechargable batteries so we bought a second set to ensure that there are batteries ready to go at any time. Total spent - about $8.
Her next gift was a School Bus Floor Puzzle. I got it at Goodwill for 99 cents. The box showed a little wear and had the word "Kindergarten" written on the front, but the puzzle inside was in perfect, like new condition. She loves school busses and counts them whenever we're out and about, so we knew this would be a hit.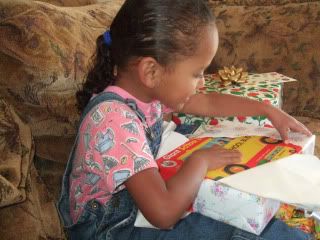 Finally, we got her the Playdough Fun Factory. It came from a yard sale, in the box. There were actually two complete sets in the box, just no playdough. We make our own playdough, so that's no problem. Total cost - $1. This was a fairly 'sure thing' too, because she loves playdough. Having two presses and sets of dies means that when a friend comes to play there are adequate supplies for them to have fun together.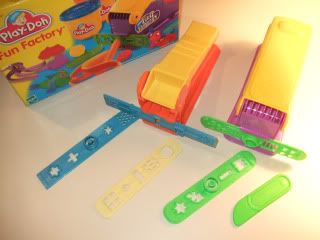 Young children love 'grownup stuff' or toys that help them practice grownup roles. If your child is always asking for something of yours, see if you have enough extras on hand to give your child their own special set. Make sure the items are safe, of course.
Other things that might be fun - great for Christmas too:
Beauty Set
- rollers, hair bows, a comb, a pump spray bottle with water, an old towel, etc.
Baking Set
- whisk, measuring cups and spoons, potholder and/or towel, a pan or two and a mixing bowl. Add some homemade playdough for extra fun!
Tool Kit
- small scale tools (make sure they are safe for your child and always supervise) like a hammer, goggles, ruler, marking pencil, etc. At preschool, we used to give the kids goggles, hammers, roofing nails and a tree stump. Nailing into the end grain of the wood is easier, really rewarding too. It's amazing how focused they become with real tools!
Office Set
- sticky notes, pens and pencils in a cup, a play phone (or a phone that doesn't work), tape (seriously, tape is a little kid favorite!) stickers and envelopes from junk mail, calculator, spiral notebook, possibly scissors for an older child.
Art Set
- (hit the back-to-school sales for this one!) paper, crayons, markers, scissors, tape, glue sticks and anything safe in the craft drawer that will add to the fun, like stickers, yarn, glitter, chalk, etc.
Camping Set
- play tent or a sheet (drape it over the table), pillow, blanket (or sleeping bag), flash light, 2-3 sticks about a foot long and an inch in diameter and some orange tissue paper (to build a pretend campfire), a long stick to use for roasting pretend marshmallows and/or for fishing. Make a fishing game too - tie a string on a stick, attach a paper clip at the end of the string. Make cardboard fish with little magnets glued near the mouth end, and your child can fish!
Playdough Set
- placemats (one per child), a plastic shoe box, cookie cutters, rolling pins, scissors, small wooden mallets, plastic knives, homemade playdough.
With all of these ideas, don't worry about getting everything new. Look around for stuff you have on hand that will work. Watch at yard sales. Check thrift stores. It doesn't have to be new to be fun, and ofen, the stuff that is not pre-packaged is sturdier and less costly. Just make sure everything is safe and supervise accordingly.
Look all the time. I got the Fun Factory back in the summer...the Bus puzzle about a month ago, and some of the things she's getting this Christmas were purchased and thrift stores or yard sales when she was far too young for them. When I see an item in really good condition that I know she'll grow into, I get it. Once you start shopping this way, the problem you run into is that you can end up with too many things, so try to avoid that.
Take advantage of really good sales. When school supplies go on sale at back-to-school time we get crayons, markers, paper, etc. to last at least the year. A month later when the pricier items go on clearance we get watercolors, poster paint, glitter, etc. These make great gift sets for friends' birthdays too.
Total spent on gifts - about $10.
I'm not counting stuff on hand because they were items we were not using.
Food and Cake.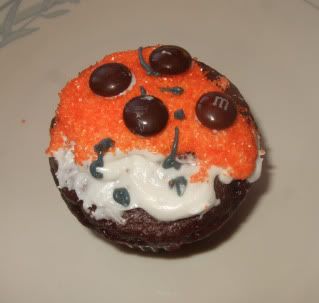 At this age, Little Bit wants to do everything anyway, so it made perfect sense to bake the cupcakes and home and let her decorate her own. When she's older, she'll probably help with the baking. We have enough tips and frosting bags on hand (I got them when we got married because I made the groom's cake.) to make it fun. This year I used a cake mix (88 cents) and added eggs and oil I had on hand. I have cake mixes on hand, but she asked for chocolate, and I didn't have that one. We made the frosting from scratch from pantry supplies. The orange sugar was 25 cents last year after Halloween (we used about 1/3 of it), and the M&M's were 2.50 for the bag - we only used the brown ones, say 50 cents worth?.
The food was just groceries - a chicken from the freezer (bought on sale), spices from the cabinet, biscuits I made from scratch and lettuce from the crisper drawer. The dressing was some we got this summer free with coupons. I bought a wedge of parmesan for $2.42 and we used about 1/5 of it.
All told her birthday meal cost about $5 for all three of us, plus we had leftover chicken for other meals. We shared cupcakes with neighbors too, and froze 12 of them (and a container of frosting) for another time. It all came out of the grocery money, and the excess M&M's, etc. will get eaten (for sure!) at some point.
Children also enjoy making pizza at home for birthdays - that can be fun for a party as well. Decorating cookies is easy and fun too! If you want to have something special - a nice steak or lobster perhaps - you can save a lot by making it at home if you like to cook. If you want to eat out for a birthday, look for deals. Tons of places will give the birthday person a free birthday meal on their special day.
Part of the reason we stayed home was to save, but also to keep things relaxed. Little Bit was already very excited about her birthday - adding the hustle and bustle of going to town, getting seated, etc. etc. could have resulted in a meltdown. Eating at home was more relaxed and less costly, but still plenty of fun.
Total for food/cake - $5
of our grocery budget - no additional outlay from our ordinary food spending.
Decorations
We didn't spend a dime on this category - it was all 'stuff on hand'. I have a 5 gallon bucket of assorted wrapping papers in the basement. My neighbor's MIL used to work for Current, and she has given everyone she knows enough wrapping paper to last a good long time. We have had the same bag of bows since about 2003, bought on clearance after Christmas. We just tape them on the presents, then afterward we put them back in the bag. If you don't have a neighbor giving you buckets of wrapping paper, watch for sales after holidays. Use gift bags over and over. Use alternative wraps, like foil, brown paper, comic pages, scrap fabric - there are lots of beautiful ways to present a gift!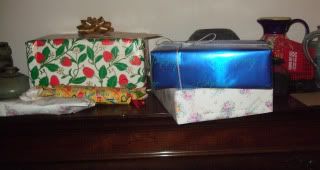 The "Happy Birthday" sign was made from cardstock I have in the craft room - I'm a stamper/scrapper - so it was long since paid for. We'll save those letters for future birthdays too - they are sturdy enough to hold up for a while. Her name is on the wall in her bedroom now too!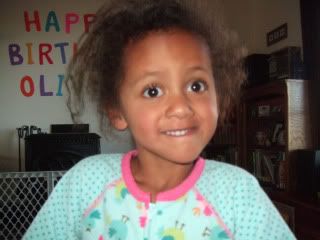 Honestly, this was probably the last year for the ballons in my stash. They were pretty weak. If I remember right they are leftovers from when we did water balloons at a party/picnic when I was a Head Start teacher...which would make them about 10 years old! Guess I'll have to spring for a new bag of balloons this decade, hee hee. All the other decorations were odds and ends from the craft room as well.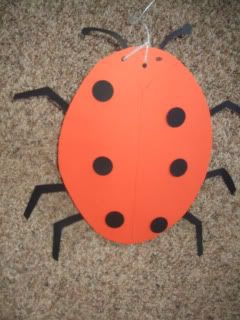 Back in May, many of my friends in TOPS gave me birthday cards for my birthday. I cut the fronts off - they were blank on the back sides - and used them for Little Bit as 'post cards'. I signed them from various friends: Mr. Morton (our cat), Molly (our dog), our hens and rooster, the horses next door, etc. and I stuck them in the mailbox. We went and got them mid-day and she was really tickled with them! It didn't cost a thing other than a couple of minutes of my time and it was a big hit!
We could have spent a small fortune on helium balloons, crepe paper streamers, a pinata, paper plates that would have gone to the trash, etc. Instead, we made our own fun and had a lot of fun in the process.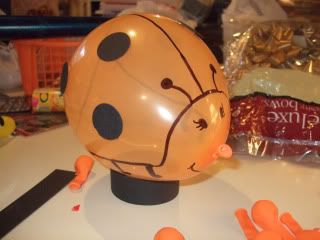 Total for decorations and wrap: $0

Total for Little Bit's Most Excellent Birthday $15, or really $10 in my opinion since the groceries were groceries. Woo hoo!
I hope you're inspired to think outside the wallet the next time you celebrate a birthday. Be creative and have fun!