If you promise you'll come back after, please go
here
and read this post by Mrs. G. I really like her and what she has to say about homeschooling, raising kids, and I just love her sense of humor. Just remember that I'll miss you while you're gone - please come back!
(thanks!)
We kinda, sorta home school. I mean, it's early for anything official...she just turned four! I taught preschool forever, so I have all this stuff, and all these activities I know Little Bit will enjoy, so we do them, and while she's having fun, she learns things.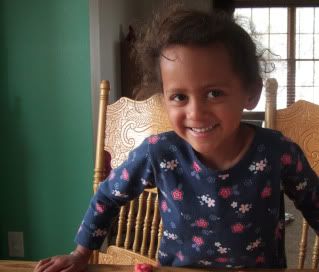 Yesterday we were playing with play dough and the Fun Factory that she got for her birthday. In addition to learning some vocabulary (extrusion, die, mold, pressure, etc.), she was strengthening muscles in her hands and developing some fine-motor skills. Pinching and kneading the play dough, cutting shapes with the knife, assembling them into objects - it's all really fun, but it's also really good for her.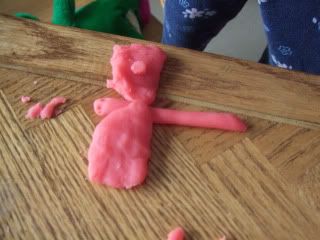 Besides all that, she's so stinkin' happy!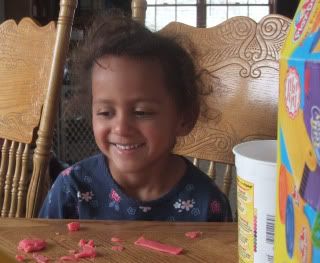 (Can I just say how much I love the 'hair' die for the the Fun Factory? I could make hair all day with that thing...if it weren't for details like cooking, cleaning, tending animals and laundry.)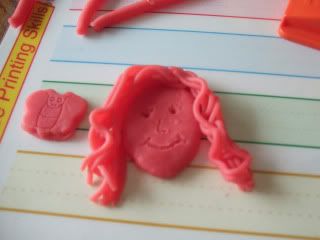 This morning, she wanted the not-sharp scissors to cut out some coupons. That's a totally normal thing to want to do, especially around here, where coupons save us BUCKETS of money. Speaking of buckets...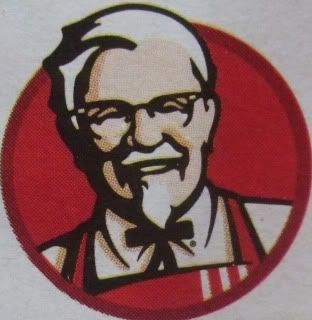 Ever since she was teeny tiny, Little Bit has called KFC the "I love you store". We don't know why. When I ask her, she says something definitive like, "Because that's what I call it." Whenever she sees Colonel Sanders, she calls him the "I love you Guy" too. It's a mystery...like the one where my little brother always called macaroni and cheese "Deweys".
Anyway...she cut these two out all by herself.
I told her that was pretty good! I also said that sometimes the workers need to see all the words on a coupon, so they really like it when you cut on those dotted lines.
"I can do that," she said. Then she did this,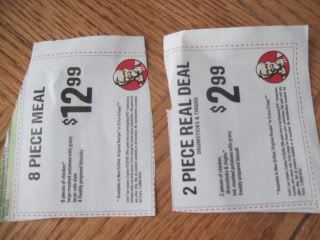 and this,
all by herself. So I'm thinking that this casual preschool homeschooling combined with training in life skills is working for her. She can carry on a conversation with most anyone, she can feed the dog, she has a great vocabulary, she can match socks and set the table, and starting right now, she can help me cut out coupons, and all of it will serve her well.