King Sooper (a Kroger affiliate) had a coupon in the ad - transfer a prescription and get $20 worth of free groceries. I love these! Hubby had a prescription that was last filled somewhere else, so he transferred it.
Here's a photo of the things we bought.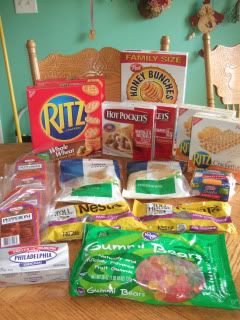 Here's the breakdown. They are doing a 'mega event', where you buy 10 items from a certain page in the ad, then they take of $5 from the total cost. So basically, they reduce those things by 50 cents apiece.
4 4.5oz. Hormel pepperoni - raincheck from last week when they were $1 - I had 55 cent coupons, doubled to $1, so they were completely free.
2 Whole Wheat Ritz crackers - 1.99 each after mega event sale, but I also had coupons to get free Ritz 'Crackerfuls' with each box, so I got 2 of those too.
2 8oz. Kraft shredded mozzarella 99 cents each after mega event price and coupon for $1 off 2
2 boxes Hot Pockets 49 cents each after mega event pricing and 50 cent coupon doubled to $1
2 Nestle' chocolate chips 99 cents each after mega event pricing and 50 cent off coupons doubled to $1
1 8oz. Philly cream cheese 99 cents after mega event pricing. I needed it for the 10th item to get the mega event pricing, but 99 cents isn't bad for cream cheese anyway.
1 12oz Kraft cheese slices 99 cents after mega event coupon and 50 cent off coupon (this one didn't double)
1 Family Size Honey Bunches of Oats 50 cents after sale price and $2 off coupon
1 26oz. bag gummy bears - basically a lifetime supply - splurge item, on sale for $1.
Total after all that: $12.40. That was paid with the $20 credit from transferring the prescription, so it was all totally free!
Gotten any great deals lately? Leave a comment and tell us all about them!