I really do love y'all, and I've been feeling bad about not having bee photos ever since y'all asked for them.
Today was sunny, warm, not windy - perfect for a visit to the bee yard. Here's my stuff, all ready to go. My 'outfit' to the left - blue sweats, a tan polar fleece sweatshirt and a couple pairs of gloves. My veil, then the smoker, matches, and some syrup, just because I care. (And because I made it for the hummingbirds, but they haven't shown up at the feeders this year. Please don't tell the bees I fed them leftovers!)
I pulled the wagon down close to the hive,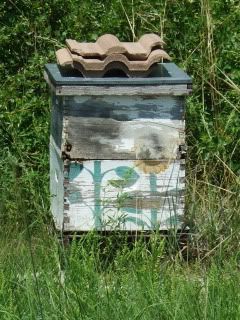 ...then I put on my suit. I keep bees in part to help me get over how much I fear them, but when I go into the hive, I dress for protection. Here are my 2 pairs of socks, out over my sweats to keep the bees out of my pantlegs.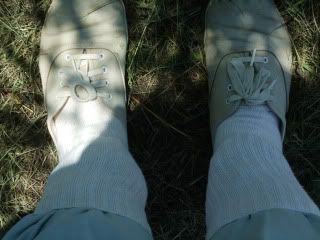 The one time I ever, ever tuck in a shirt - and then it's only so I can tie that tie and keep the bees out!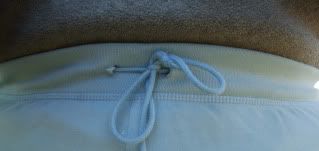 Then, gloves. One pair on the inside, one on the outside.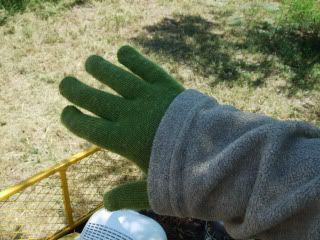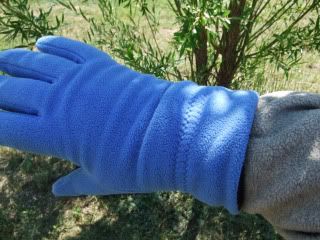 Then I have to get the helmet and veil on, and tie the veil tight (with a double knot, of course!), all with two pairs of gloves. After a couple tries, I'm ready to go.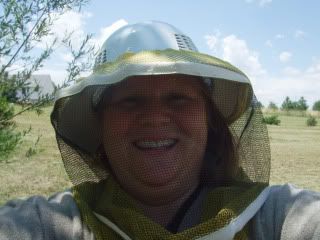 Mercy. I couldn't look more ridiculous if I tried. My poor, poor neighbors.
Anyway, back to the fun part. Now, with all these clothes on, I have to build a fire.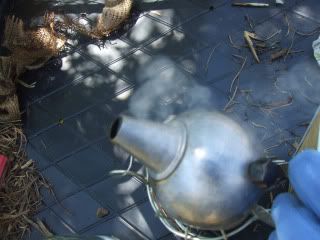 Whew! That only took about 14 matches. Anyway...you puff a little smoke at the entrance. This is not a normal entrance, but these are not normal bees, so puff puff.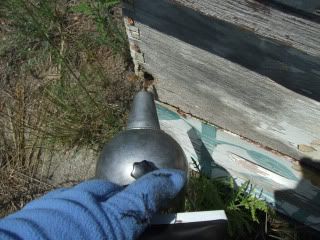 Then I took off the top cover, and puffed...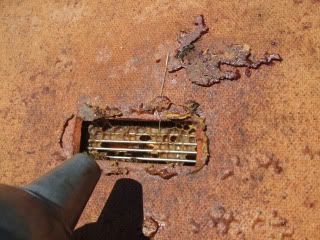 But the smoker has gone out! Back to the matches.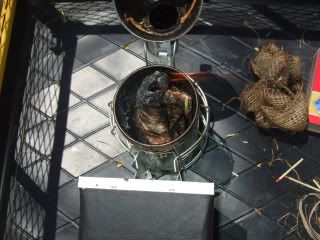 This metal grate is the queen excluder - it keeps the queen from getting up into the 'people honey' and laying eggs. Because that would be 'ew'.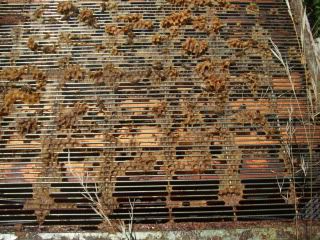 (Wait a minute - the smoker's out again.)
OK, now we're in the hive. The bees are busy swallowing as much honey as they can (because the smoke makes them think there is a fire, so they are preparing to leave if they have to), so I am using my 'hive tool' to pry out a frame, so we can see what's going on. You loosen one side, then the other.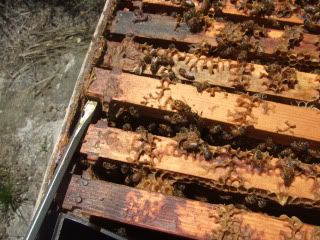 OK. COOL. See those combs on the right that have a covering? That is capped honey - all ready for them to eat this winter. See how the open honeycomb is shiny, sparkly? That's the sun reflecting off of more honey that they are still evaporating. When it's properly evaporated, they will seal off those honeycombs as well.
This is a different frame. See how the covers on these look a little more 'paper-y'? This is brood comb. These honeycomb don't have honey in them - they have baby bees in them. The queen is not active in this part of the hive right now, because these larvae are fair sized (when she first lays them they are very tiny - find that frame and you usually find the queen). Anyway..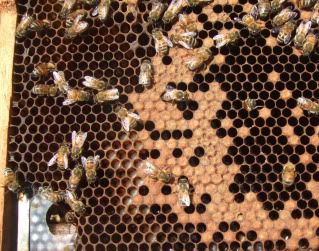 Here's a closer shot. See those open combs that have something white in them? Those white little c-shapes are honeybee larvae. They are still being fed, so the comb is open. When they are the right size, they will move to the pupa stage, and the nursery workers will cap them. When they are all 'done' they come out, ready to take on a role in the hive.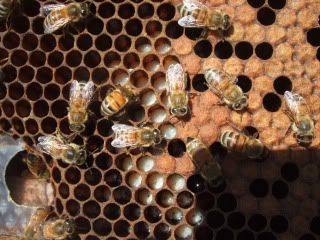 On the other side of the same frame, look at how these caps are more of a dome shape. Those are drone cells. They will be the boys - raised to mate with the queen when the time comes.
The smoke is beginning to wear off, and I'm about to burst into flames in my hot suit, so I poured in the syrup, put the queen excluder back on and replaced the cover on the hive.
The good news? They have already stored a good amount of honey for themselves. They'll have the rest of their honeycomb capped very soon. So, tonight I made a batch of syrup to feed them to help that along a little faster, and then I'll be able to add a honey super to the hive. What that means is that I'll put another box on top of the two boxes that are there, and any honey that they put into the new box will be for us! It's late in the season, but they still have about 6-8 weeks, so we'll just have to see how it goes.
Well, I hope you enjoyed the pictures, and I hope you'll forgive my ridiculous outfit!