Warning: The following photos are a bit disturbing. Please keep in mind - it's a stuffed animal.
Not a real panda.
Just a toy.
No actual animals were hurt.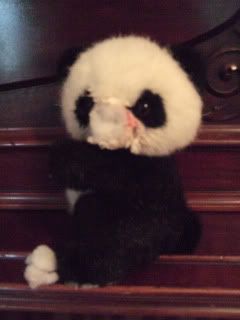 Ugh. When I first found Panda, I thought we were going to have to put away all sorts of things. However, after talking with Little Bit, it turns out that she (Little Bit) put Panda into Molly's crate...with her bone and her rawhide. So, Molly thought that Panda was her latest chew toy...and in a way, I guess she was right.
For the time being, we've put away all the stuffed animals - just in case!