With all the back to college sales and the somewhat pitiful state of our bathroom towels, it was time to invest in new ones.
Why is it that a dinky little hand towel only costs 25 to 50 cents less than the bath sheet that's the size of Rhode Island? Don't even get me started on the washcloths!
Anyway, I wasn't about to double the cost of this deal buying hand towels. I just bought an extra towel and made my own.
I cut off one hand-towel-sized piece, then lined it up with the other end of the towel, and cut a second one.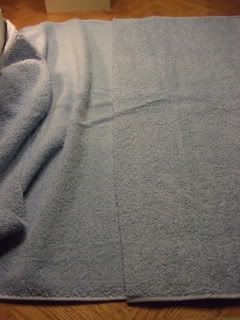 Turn the raw edge and sew, then do it once again to get everything all nice. The other three sides have a finished edge already, so that's pretty much all there is to it. Repeat with second towel.
Voila!
All cute, and not quite matching my walls....sigh.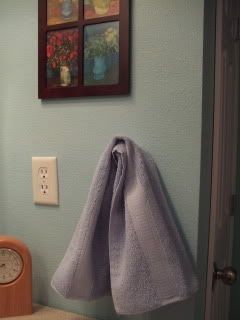 I saved so much I got a second trio of towels and made two more hand towels from the spare.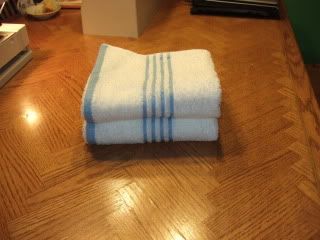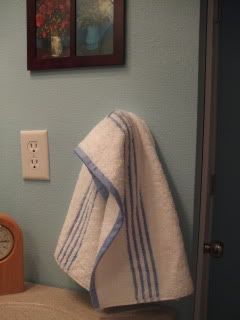 If you use washcloths, you could easily work up the 'middles' for washcloths - especially if you have a serger. We use (and really love) these in place of washcloths.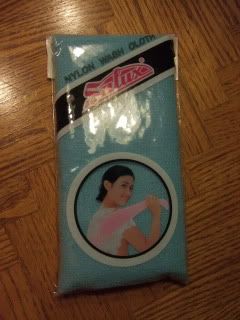 They are scratchy, hypoallergenic, and they will not mildew. And old ones make great tub scrubbers!
Anyway, I took the two middle bits, hemmed the raw edges and sewed them together end-to-end the long way, to make a narrow, long towel.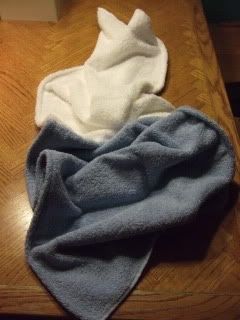 It's a perfect wrap for wet hair - woot! Plus, it matches both sets of towels!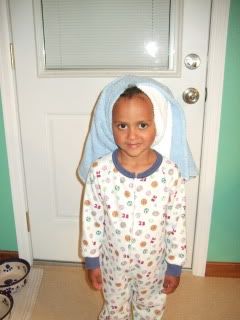 And that's that! New towels for less cost, plus a hair wrap, yay!