I have to give props to this little guy.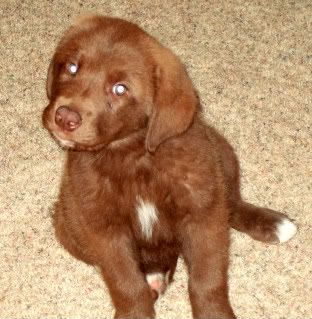 We've been without a dog for quite a while. When our beloved border collie Max died, we just couldn't even think about getting another dog for a long time. We had been talking about a new dog, but we kept putting it off.
Along comes little cocoa fluff, and he really got us thinking about dogs again. While we were admittedly a little sad to say goodbye to him when we found his family, we also saw very quickly that a very young puppy was going to be a lot of work. I had visions of coming out of the kitchen to find the piano chewed into mulch, or the entire living room subfloor exposed. He was a chewing machine, not to mention the ability to pee, pee, pee. As much as we loved the little guy, there was some relief in not having to live through his puppyhood.
Maybe an older dog would be better? But what if there are bad habits? Can those be fixed? What if the dog is a runner, or chases cars, or hates music?
We started looking around. We answered several ads on craigslist. We went to the humane society. The humane society here is very nice, but it breaks my heart. All those dogs...cats...even two horses, and assorted rodentia. All needing homes. Add in the animals offered on craigslist and freecycle, and there are a lot of animals looking for their place in the world.
Even though I called about three, I only really heard back about one of the dogs on craigslist. We made arrangements to go meet her. She actually came from the Humane Society, but didn't fit in with what the family needed, so they were looking for a home for her.
I'm happy to introduce you to our newest family member!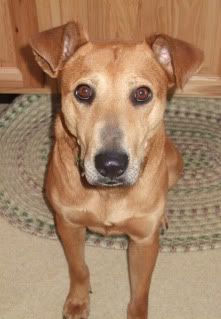 Molly is about 2 1/2 years old. When she came home with us, she was pretty nervous, I think. She pulled hard on her leash - I lost skin on my finger! - and she was everywhere all at once in the house.
We were a little concerned about the pulling, and the frantic energy, but we could tell she was trying to settle down.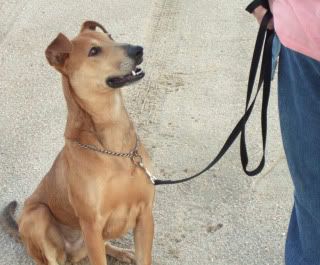 We were ill-prepared for a crate-trained dog. She spent her first night in a large rabbit cage. It was big enough for her, but because it didn't have a tray in it, we put her downstairs, where she couldn't eat a patch of carpeting or destroy anything.
She howled. And howled...slept a little, and howled some more.
The next day she seemed a little calmer, and she really began to shadow us in the house. By mid-day, we felt comfortable letting her off the leash (as long as she knew we had treats in our pockets) out in the back yard.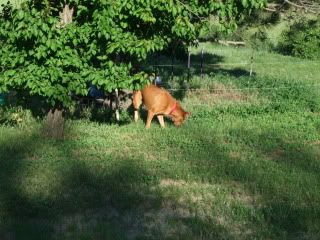 That evening, in the house, she took a deep, deep breath, and let out a long sigh....and just settled right in. This is only her third day with us, and she is a different dog. She comes when you call her. She will sit (for a moment), and even if she's chasing a rabbit, she stays on our property when the rabbit runs next door. She is fairly quiet (no more howling since we got her a proper crate and put it in our spare room), she is very sweet, and really affectionate.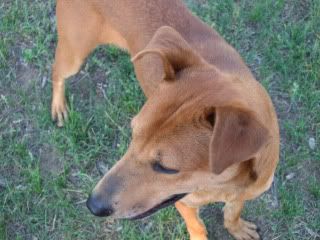 The short hair is NICE. Without big wooly fur pads on her feet, she doesn't track a bunch of stuff, and her coat is so sleek that she doesn't really get burrs or seeds in it. She is lean, and fast, and an all-around good girl. She reminds me a lot of Taffy, the dog I grew up with.
The Humane Society said she was an Irish Terrier mix. We think she might have some Greyhound in her...but whatever she is, she is ours, and we are hers, and that's just fine by everyone.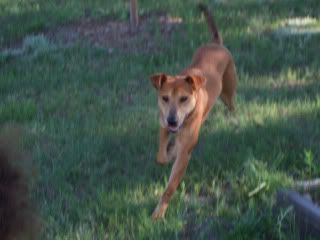 So we thank you, little brown pup, for helping us find Molly. And we wish you well, and we hope that we get to see you once in a while and watch you grow up!