My friend MaryBeth recently offered us a really lovely bed for Little Bit. It's twin-size, with drawers beneath and a bookshelf headboard. No more toddler bed for our girl!
One afternoon I headed over to MaryBeth's house in the pickup truck. As luck and Mother Nature would have it, there was a tremendous downpour just about the time we got all the pieces and parts loaded into the truck. We had a tarp over the mattress (thank goodness!) but one of the backing pieces for the bookshelf headboard took on water, wrinkled, then just sort of upped and died.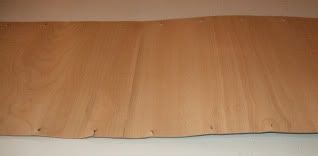 OK, so maybe it wasn't that bad, but it was pretty wrinkly. Never fear! We are packrats, and we still had this:
...left over from back when we made
Little Bit's Secret Surprise Christmas Play Kitchen
. (Psst - scroll around in there to see the entire project.)
Hubby cut a piece to fit behind the bookshelf, and I got it primed. I planned to paint it the soft rosy pink of Little Bit's hand-me-down dresser, but it kept raining, and raining, and raining, and I was being impatient, so I mixed up some blue paint until we got a nice color. Then - also left over from the Secret Surprise Play Kitchen - I put a strip of lovely wallpaper border. Voila`!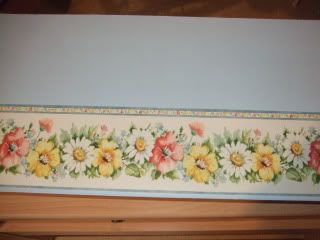 Here it is - all installed!
After that, I got cute and put another strip of the wallpaper border along the back of the top shelf. This was actually a second attempt, because the wallpaper border doesn't want to stick to the smooth surface. It worked this time...for about 24 hours. Ah, the memories...hee hee. Just imagine that one gone now.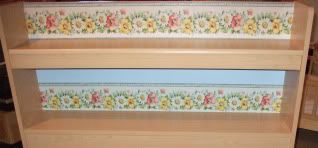 We topped it with the only quilt I've ever made (so far), and taa daa....Little Bit's new bed!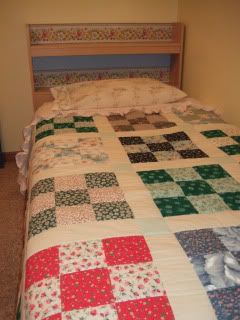 She loves the drawers beneath. LOVES them. I claimed one for blankets and sheets, and she has the others stuffed with treasures. She likes the headboard too - she fills it with her 'favorite animals of the day'. Best of all, she likes that her bed is big enough that mama or daddy can snuggle with her for a while at bedtime.
I have to admit, that's my favorite part too.