We had a great time at the county fair. About the third photo I took, my low battery light started to flash, so I had to be 'economical' with the photos. Still, here are a few highlights!
First off, it was $1 admission day, so I was expecting huge crowds. Actually, it wasn't too bad. There were plenty of people, but it wasn't crazy. We went with another family, which made it extra fun for both of us. Kids for Little Bit to talk with, and a real live grown-up mom that I could visit with too! (Hi, Erin! Thanks for going with us!!)
But the real deal - the animals!
They had the petting zoo near the entrance, so we started out petting goats, ponies, alpacas and peeking in on cows, chickens, turkeys, geese and ducks!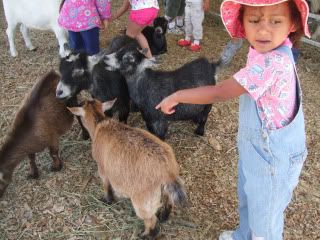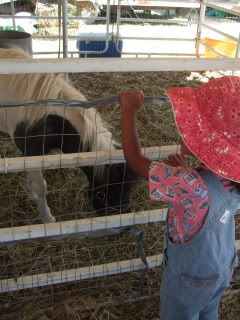 Just as we were about to leave the petting zoo there was a dairy exhibit/milking demonstration. This cow was gorgeous - she was so clean, and pretty, and perfect!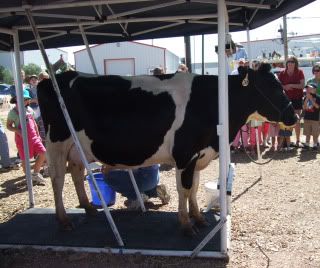 I wasn't sure if Little Bit was really listening to the presentation or not, but then the lady said, 'In a minute, we'll let you milk the cow, if you would like to give it a try." and before she got the last part completely said, guess who was milking?
A very nice man asked her to wait a minute (which she sorta did), and then she was right back at it. She didn't understand the technique at first, so I did it on her finger (You have to squeeze top-to-bottom, in a sort of 'rolling' (but not) motion). Once she felt it, she understood it, and she did great!
After Erin's children had a chance to milk, we went to the animal barns. There were lots of goats - we looked for Taz, our
across-the-road neighbor
goat, but we didn't see him. We did find the neighbor rabbits in the rabbit barn, and they looked great! The beef cattle were beautiful - so healthy, and BIG, and well-groomed (until one of them pooped on one that was lying down - the kids didn't know what to think!) We ran into Payden, the young man from across the road, and he took us through the pig barn, where we saw our neighbor pigs (who weren't jumping any fences today!). He told us where Taz was housed, but we needed to get on to other things. We'll see Taz once he's back home, I suppose.
But the best barn, by far, as always, was the poultry. It kills me that my batteries were low, because there were some really beautiful chickens in there. All sizes, all body types, all of them just lovely, and beautiful, and perfect. For fair, they get washed, groomed, their feet are oiled, everything. They are like little chicken princes and princesses. I wanted to take every one of them home with me. I didn't take any pictures, because I just couldn't choose. They were all amazing and perfect. Happy sigh....
We went through the exhibit halls and saw all sorts of baked goods, home-canned goodies, artwork, quilts, scrapbooks - a little of everything. You can tell that a lot of people work very hard in preparation for the fair - whether they bring animals, pound cake, or photographs. It was really cool to see all the different forms of talent all in one place.
About midday, there was a special show with bears. The crowd was big, and Little Bit wasn't exactly interested, so I took her and my friend's little boy into one of the exhibit halls. They had a rest stop of sorts set up with lots of seating for the adults, a big wall mural the kids (and I) could color, and this: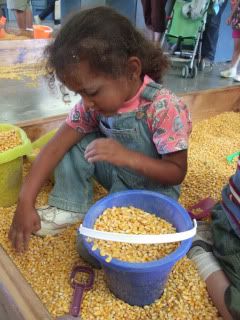 She loved it...and played in the corn for a long time. I was tickled too - we just read a children's nonfiction book called "Corn" by Gail Gibbons. The book describes the four major types of corn that are grown - popcorn, sweet corn, flint and dent. Little Bit was scooping it up, filling her bucket and picked one up, took a look at it and said, "Well, this is all Yellow Dent, Mom." She sounded like such a little farmer!
We left the fair for a while, because it was time for lunch. The fairgrounds are very near the school, so we went to the car for our food and blanket, then found a nice shady place for a picnic. The kids ate, a little, then played on the playground a bit. When that began to wind down for them, we returned to the fair. The kids had all behaved really well, so they each chose one ride. Erin's older children rode the Ferris wheel, and Little Bit found a pink glitter car to drive. Perfect end to a perfect day at the fair.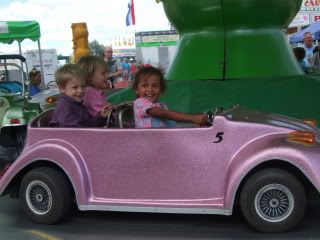 We came back to the house to let the children play together a little while longer, but then said our goodbyes close to supper time. After supper we went out and planted fall crops - lettuces, cabbage, broccoli, cauliflower and Chinese cabbage. Little Bit made some mud pies and I did some weeding.
So....back to normal, but today sure was
fun
.