It all began this morning about 6:15, with a whimper of a whine. I actually thought it was Little Bit, perhaps in the midst of a dream.
We heard it again. It was coming from outside, so I went to the back window. Since I was half (or maybe even three-quarters) asleep, I didn't have my camera with me, but here's a picture taken just a few minutes later.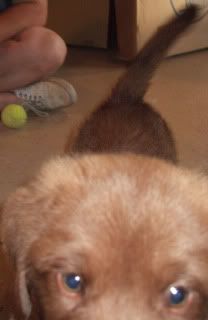 He's quick, and curious! (and rather difficult to photograph!)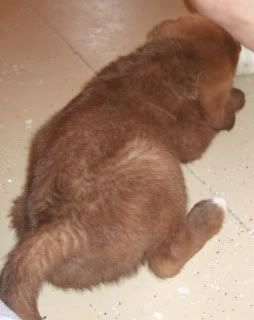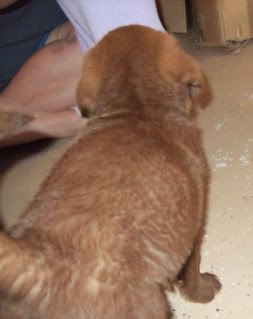 Little white toesies!
I just happened to have a couple of bags of puppy food that I got free with coupons a while back. I have offered them on freecycle, but so far, no one had claimed them.
(I think someone little, brown and furry just claimed them.)
Eventually, he began to settle down.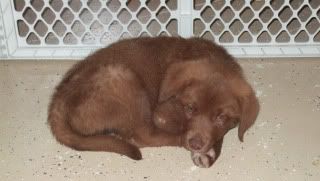 We checked with neighbors, and he didn't belong to anyone we checked with. He wasn't covered in grass or burrs or dirt or anything, so we don't think he wandered in from afar.
That leaves us with a couple of options...he might have been dropped off, or he might be an outer space dog. Either way, unless there is a major development, we have a PUPPY!
You should
smell
him. He has that awesome puppy smell. Razor-sharp pup teeth, a cute little yap, honkin' big paws....I'm in love!