Oh, give me land, lots of land, under starry skies above...
Don't fence me in....
Ever since I put up some twine for the peas to climb, Little Bit can't stay out of them.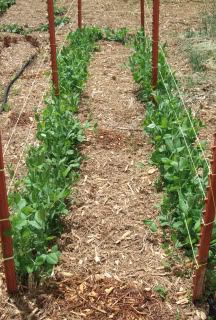 I love the fences, Mama. This is my farm where I keep my sheep and chickens and goats and cow. (trample trample trample)
So, we improvised, and with junk-on-hand, we built her a corral.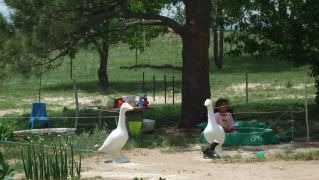 All you need is a couple of super-heavy concrete geese you got from freecycle, some aspen limbs you trimmed off a tree, and some acrylic yarn you have no other use for. Or...whatever junk you have on hand.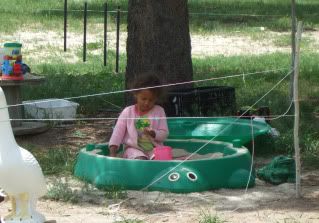 Even with a broken 'wire' (yarn), she loves it (I fixed that last night after a rain when the yarn was stretchy, and it's all better!)
And yes, that is a ceramic bull guarding the entrance to her 'corral'. Freecycle is a weird, wonderful thing.
My favorite thing? I can ask her to put all her outside toys in the corral, and she does! Much better than when they were spread over half an acre.
Seriously though - for no cost we were able to give her a place to really let her imagination run with all her ideas and concepts related to 'farm'. She is having a great time, and when she tires or it (or when I tire of mending fences) it's not a big deal to take it down. She has named her corral "Rooster Sing". It's not far from the henhouse, and you can hear the rooster crowing, but I'm not sure if there's a connection there or not.
And, my peas can grow in relative peace.