We have lived here way, way too long for me to be telling you that we just built a compost bin.
We just built a compost bin. There. I said it.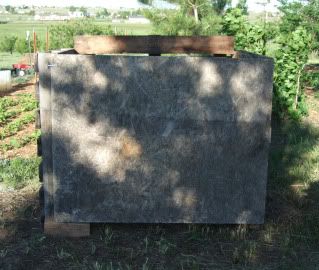 All those years, we put the weeds and such in a round metal wire thing, where they instantly dried up and nothing happened. All those years we put the henhouse straw/manure on the garden in the fall, tilled it in, and hoped for the best. Back when we had rabbits, we put their little nuggets around our trees with the little nuggets from the wild rabbits.
But now, we have a compost bin. Best of all, we made it out of stuff we had laying around, and did not spend even one penny.
I guess you could tell it wasn't exactly 'new', eh?
I'm not sure if you can see the one on the left, but we started with three old wood pallets, scrounged for various uses (weight in the back of the truck, firewood, something to put under my stash of ceramic tile for mosaics, etc.) Pallets work well because they have all those slats with space between them, allowing air to circulate through your compost pile. Also, the part about them being free is always nice.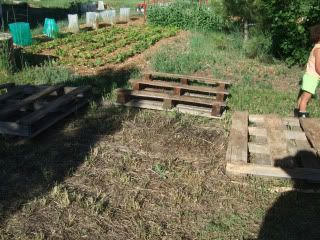 The fasteners are deck screws and drywall screws, both left over from building the house.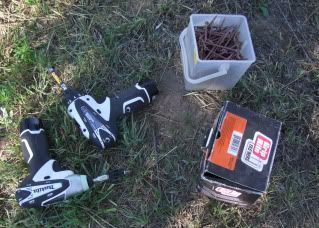 Basically, you just find places where the wood meets and screw the pallets together.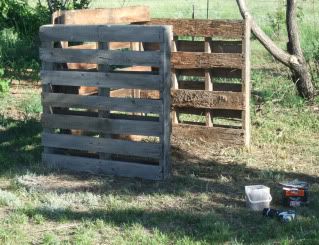 Within fifteen seconds it became apparent that we would need a door on the front, to keep Little Bit out of the compost. "Is this my new playhouse?" she asked hopefully. She's so deprived.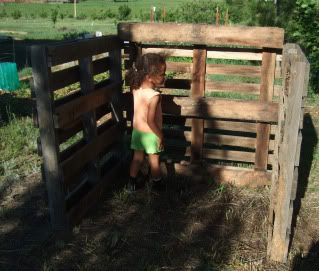 We found a piece of sub-floor (also left over from building the house) and it was just the right size. Hubby found some hinges we had laying around too.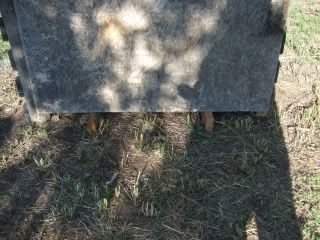 Of course, sub-floor is 5/8 inch thick, and heavy, and pulled the whole thing sort of cattywampus..so we grabbed some 2x4 pieces from the wood pile to make a door holder-upper. Still free!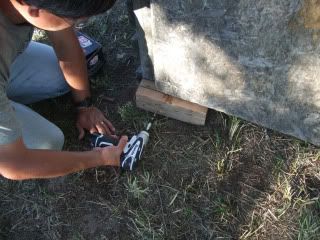 Nice! I mean...really...think about what we're going to
put
in here!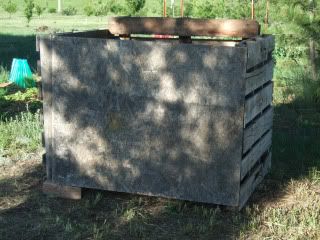 I'd give Little Bit about another 15 seconds before she finds that gap and gets the door open and starts hauling her Little Tyke plastic chairs (and dishes! and Barney!) in there.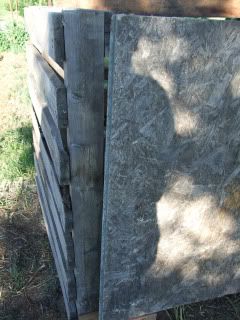 Hook and...other hook to the rescue!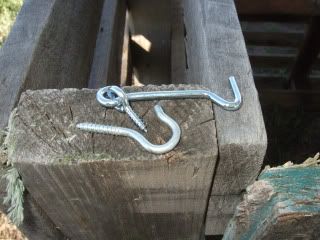 Beauty-ful!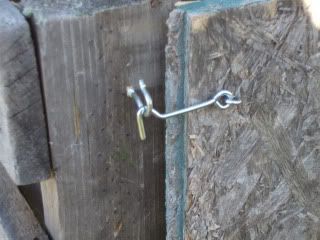 Taa daa!!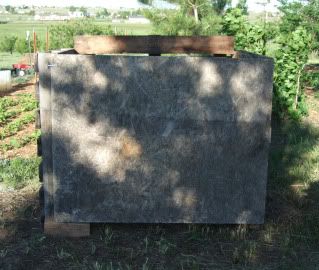 It's way back by the barn and the garden. You can't see (or smell) it from the house, so it doesn't really ruin the ambiance of Ten Things Farm.
Over the course of the next day or three, we put in layers of henhouse straw, rabbit manure from the neighbor animals
(the ones whose pig chased me!),
weeds, grass clippings, used tea leaves...layer upon layer. We watered it too, and guess what! It's giving off heat, breaking down all that stuff into fabulous compost for our garden, orchard, flowerbeds...
We should have done this a long time ago! Then again, we had to wait until we'd accumulated all the odds and ends it took to put it all together. :)
If you want to, you can build your own compost bin too! Happy composting!