I woke up today
craving
a green smoothie. Alas, there is no baby spinach in my house, and the ones in the garden haven't sprouted yet. I know that lots of people eat dandelion greens in salads, so I figured I'd give that a go. It's spring, they are young and tender, so I went out to find a few tasty greens.
I've never eaten dandelion greens to my knowledge (Mom? Did we eat them when we were kids?), so I started with just a few. And...since I din't know what my outcome would be, I poured out some fruit only smoothie for Little Bit before I put in the rinsed greens.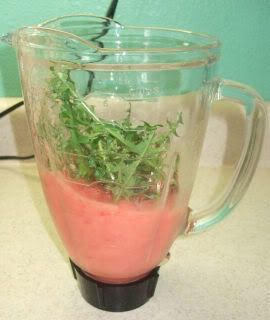 The base smoothie was frozen peaches, frozen strawberries, frozen pineapple, lime juice and some apple juice - one of my favorite combinations. I whirled the greens in, and really, the color change was minimal. They didn't break down quite as finely as some other greens I've used (namely spinach and romaine), but the little flecks of green look pretty harmless, actually.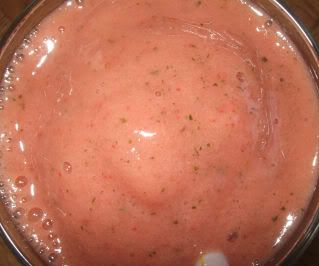 Breakfast and home decor, all from the same plant!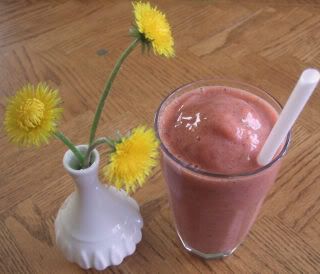 I have to admit - it tasted a little like....lawn. It's more bitter, a stronger green flavor than I'm used to. I'm glad I just used a little, but I'm glad I tried it too. It made me curious to learn more about the ways to use dandelion, and really, after a few sips, I didn't notice it as much. I think I'll start some alfalfa sprouts in the sprouter, though...for a milder taste of green.