My, how quickly things change. We've been doing all this garden prep, poo-hauling, and tree trimming while we wondered - will it last? Will this be the year that spring springs early, the weather stays warm, the apricot blossoms actually make it through without getting frozen?
Uh....no.
Wednesday was warm, sunny, pretty. I even went to town right quick, to pick up my most recent (and potentially most awesome) bit of freecycle happiness. A pond!
You can't tell, really, but it has the pump/aeration thingy, and a little upper pool that will cascade into the main pool...provided I can figure out how to get it all put together. I think I'm going to look for a quiet spot somewhere and make a tranquility garden.
Just...not right now, because Thursday, we had a bit of a switch. We knew it was coming. The robins, not so much.
Actually, I bet they knew before we did. These are just some last-minute planning meetings.
I love how round and puffed they are. I just hope they all find warm spots to weather the storm.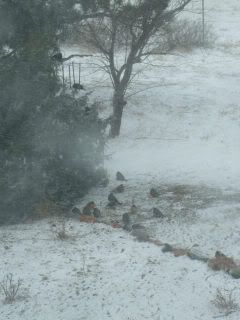 It's been windy the whole time too. So much that if the fire dies down, we get a down draft in our chimney, and smoke in our living room....which explains why I loaded the stove at 1am, then got up this morning at 5am to put in more wood. I have to run it more 'open' or the smoke gets in, so no banking and sleeping!
With all this wind, the fire is moody, so I'm still up. First light is coming, or probably already here (it's cloudy and thinking about snowing more). So maybe I'll just slice some of the bread I made yesterday and pretend I don't need sleep. Everything is closed for today - schools, libraries, even some businesses, so maybe I can sneak a nap later on. Right now, I think I'll make some toast. Maybe even cocoa. Want some? I'd be happy to share, and I'd love the company. :)