I read about Once A Month Cooking (OAMC) rather often, and to be honest, it really doesn't appeal to me. If you've never heard of OAMC, the concept goes something like this:
1. Make a menu with all the dinners for the month.
2. Go out and purchase all the ingredients for all the meals, then spend a day preparing all the meals (with recipes designed for OAMC) for the entire month.
3. That night you go out for dinner, but the rest of the month you have meals that are ready to be thawed, baked and served.
I read quotes from people who love the method, but it just sounds overwhelming to me. I like to cook, but doing that much cooking all at once just sounds like....well....work.
I've come up with my own 'mini strategy' instead. When I make one of something, I make two more for the freezer. This works well for us for several reasons. For one, we're a small family - just three of us - so 1.5 recipes of a lasagna will make 3 smaller (8x8 or 9x9) pans. A smaller pan like that is perfect for us...we have enough for dinner and some leftovers for the next day or so. Another reason this works well for us is that we don't usually use as much meat as most recipes call for, so if I thaw a pound of meat and then use it in three entree's, it is just about right for us.
This time around I made Lasagna times three. I won't bore you with the recipe - you can use a recipe you already love if you want to give this a try. Basically, you make lasagna just like you make it any other time, but you make enough to have it three times. One is to eat 'now' and two will go in the freezer, so you will need three pans that are about the same size.
Time to prepare all the different layers. Cook some meat and onions, add spices and tomatoes and simmer a while.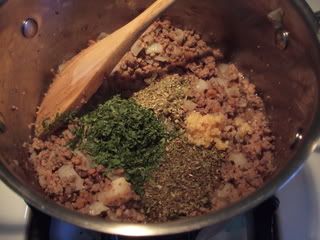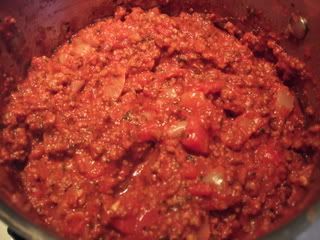 Cook and drain some noodles. Keep them a little on the firm side so you don't end up with soggies.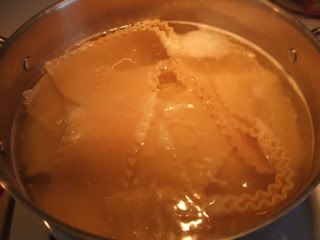 Mix together all the 'white layer' stuff. I use cottage cheese (which was on sale) because it tastes good but it's more economical than ricotta. I also put garlic powder in this, even though I've never seen that in any of the recipes.
Once you have the ingredients for all the layers prepared, line two of the pans with plastic wrap. You'll see why in a bit! Layer some noodles. (oops! I didn't get a picture - but you get the idea, yes?)
Then, the cheese layer.
Sprinkle with some mozzarella.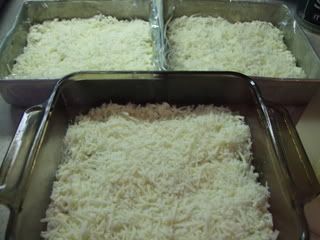 More noodles (I almost missed this picture too!)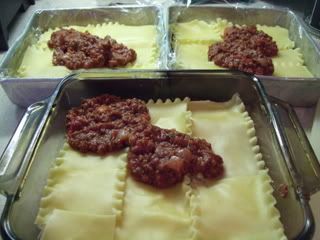 The meat/tomato layer.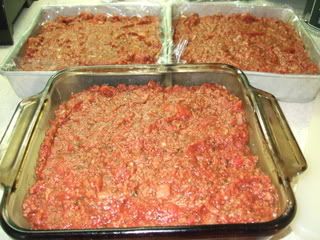 The noodle roof!
Cover the 'roof' with a blend of canned tomato, basil, garlic, oregano and salt.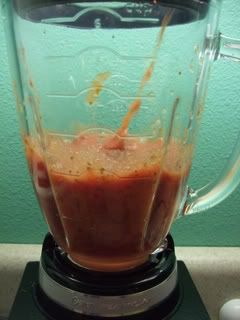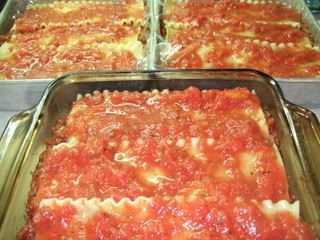 Now you have two lasagnas with plastic wrap sticking out from the pans, and one that is ready for the oven. Cover the tops of the two 'freezer lasagnas' with plastic wrap, and freeze them.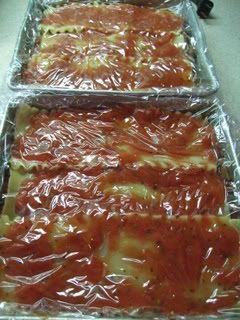 Once they are frozen (say, the next day), you can pop them out of the pans, wrap them in freezer paper
(or use my super cheap freezer wrap method),
label and put them in the deep freeze.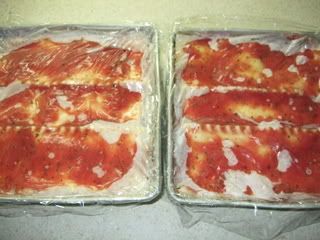 As for the other lasagna, put some foil over the top and bake it in the oven. When it's hot and bubbly (the time it takes will depend on the size of the pan, the thickness of your lasagna, the heat of your oven, etc.) remove the foil and add the top layer of mozzarella. Sprinkle with a few herbs and return to the oven for 10-15 minutes. Remove from oven, allow to cool a few minutes and serve.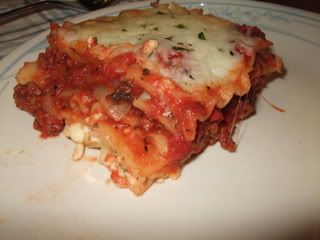 The next two times that we have lasagna, all I have to do is pull out the frozen lasagna cube, unwrap it while it is frozen (this is important, because you can't unwrap a thawed one) and pop it in a pan. Cover with plastic wrap and leave it in the fridge to thaw overnight. Then, bake it the same as a fresh one, top with cheese and herbs when the time is right, and serve!
I like this method - it's manageable for me and fun. Give it a try and maybe you will like it too! :)