This has to be just about the easiest 'recipe' out there, except maybe for my black bean soup. I love to make this when I have some leftover turkey, because everything else is pantry stuff, and you can put it together literally in minutes! Here are the ingredients:
Two things are missing from this picture: a can of chicken broth (I used some frozen turkey broth) and 'fajita seasoning'. I had a spice jar of fajita seasoning that I used for years, but I used it all up! So I put in some salt, pepper, chili powder, ground cumin, garlic powder and onion powder (and no, I didn't measure!)
All you do is put the broth and leftover cubed turkey in the soup pot, then add the diced tomatoes, some chopped frozen mild peppers (that's what is in that bag on the right in the photo above), the
drained
corn, and the
rinsed and drained
beans. Note: If I have tomatoes with green chiles in them, I don't add the frozen peppers. Also, these black beans have jalapenos in them, which are too spicy for our little one, so I picked them out and fed them to the hens.
So, two minutes later, you have this.
Just simmer it, a lot or a little, and then serve. This will make six hearty servings. Garnish as you please, and you have dinner!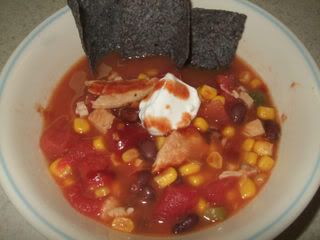 I pick up the ingredients on sale (and with coupons) so this is a really inexpensive soup - this entire batch cost about $1.25. It has plenty of vegetables, fiber, protein and lots of flavor! I hope you like it as much as I do!