We've been doing a little freecycling of late. I really love freecycle. We've passed on a recliner, and someone is coming for another one tomorrow.
We've been selling some things on craigslist as well. Craigslist is great too - we've been able to sell quite a few baby things, toddler toys, even a huge multi-station weight bench! It feels like our home gets a little bigger each time someone comes by to pick up an item.
Because our goal has been less, rather than more, I've just been deleting the daily digests I get from freecycle. We don't need more stuff.
However, we got the 'classifieds' from our co-op, and another family in the group had upgraded their tv. They passed their old one (and the entertainment center) on to us. It was an upgrade for us too!
Before:
After: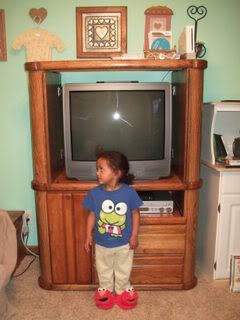 Also, we can close the doors and the tv goes away!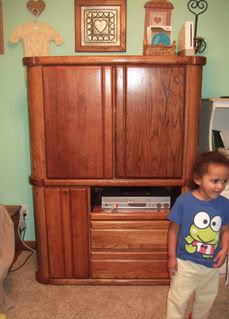 The 'old' TV is downstairs now. I can watch it when I'm on the Nordic Track. Yay!