LoMein is a really popular Chinese dish. It's also easy to make at home. Here is my Mother-In-Law's recipe. Give it a try and I know you'll be pleased!
This is New Year's tradition in Hubby's family, so this is what we had for dinner on New Year's Eve. There is a lot of prep, but once you get everything ready, the actual cooking goes fast. This tastes so, so good, and I wouldn't be afraid to substitute ingredients - seasoned chicken in place of the pork, different vegetables - this is a really versatile recipe! I'll put the recipe at the bottom of the post, after the pictures.
Mom's LoMein
Here are all the ingredients:
First, a bunch of prep-work is in order. You'll do some peeling, shredding, and slicing.
You'll cook half a box of noodles too. We used whole wheat to add some fiber and nutrition - they are great in this dish!
These get combined to make the sauce. By the way, if you taste the sauce by itself, it's kinda awful. The final dish is wonderful...don't taste the sauce! ;)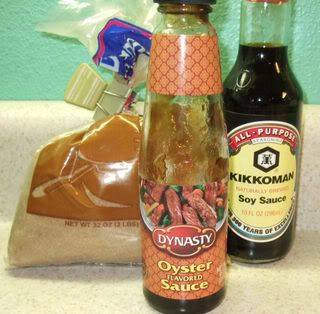 This meat looks really red. It's supposed to - it has a coating on it that is really flavorful. (You can get packets of 'Chinese Barbecue Mix' in Asian markets - that's what we use. Cut the meat into bite-size pieces, and make sure every piece has some of the red on it.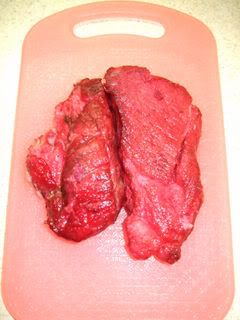 Cut the onion and cilantro, then scramble the egg and cut it into strips. Just do the egg in the skillet you'll be cooking in (use nonstick spray) and make it fairly thin, like an egg pancake. Our hens are laying some eggs with dark yolks - this looks unnnaturally yellow!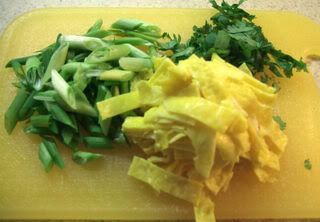 Finally, crush the garlic. Things are about to happen really fast, so make sure you have everything at the ready, including the serving platter/bowl.
Are you ready? Let's do this!! Get out your big skillet. You'll need the room to get things stirred together.
Put some oil in your pan, get it hot, and toss the garlic in!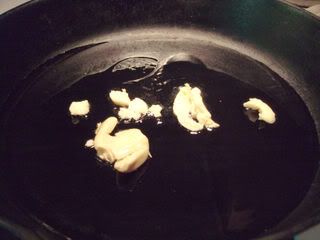 Once the garlic is starting to brown, you remove it (I feed it to my chickens). If you leave it in it burns and gets bitter. I've just added the beans carrots, now I'm about to take out the garlic.
Next, add the meat. It's already cooked - you're just re-heating it.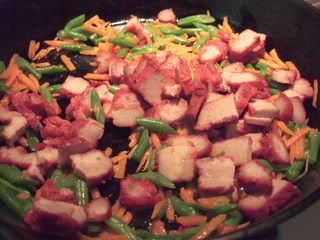 Now, the mound o' noodles. Stir them in as best you can. Add oil if necessary (It is usually necessary to add a little.)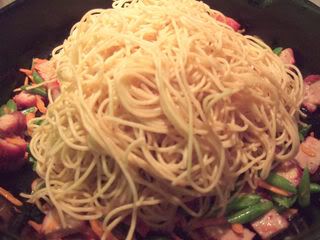 Once the noodles are somewhat stirred in, add the sauce. You should hear some sizzle.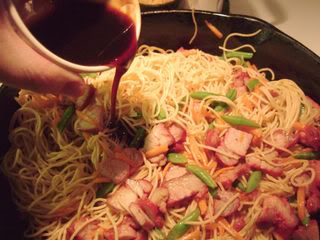 Stir things around a bit, then add the bean sprouts, and stir them in as well.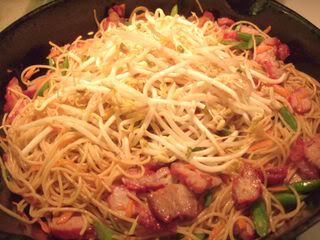 Almost done! Add the egg strips, green onion and about half the cilantro. Stir to combine. By now, you house smells divine, and your family is all in the kitchen.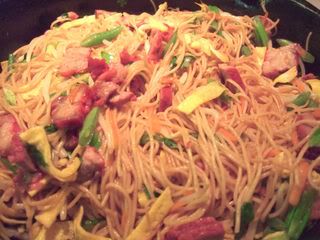 Put your lo-mein onto a noodle plate or into a big (big) bowl. Garnish with the remaining cilantro and serve.
Wishing you and yours a happy and prosperous new year, as well as a healthy, happy, long life!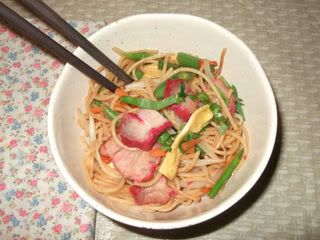 * * *
Mom's LoMein
2 cloves peeled garlic, crushed
1/2 c. fresh green beans, sliced diagonally
1/2 c. grated fresh carrot
1/2 - 1 c. Chinese barbecued pork (char siu)
2-3T. oil
1/2 of a 1 lb. box of spaghetti noodles, cooked (this is my modification - back home she buys 10-12 oz of fresh lo mein noodles)
more oil if needed
1 c. raw bean sprouts
Sauce:
1 T. soy sauce (shoyu)
2 1/2 T. oyster flavored sauce (Asian section of supermarket, or Asian market)
1/2 t. brown sugar
1T. sherry or water
1 egg, scrambled and cut into strips
1/4 c. chopped green onion
1/4 c. fresh cilantro/Chinese parsley (they are different names for the same thing)
Prepare all ingredients - slicing, chopping, cooking, etc.
Heat oil in wok or large skillet. Add the crushed garlic and let it fry until it begins to brown. Remove garlic from oil, put heat on high and add the string beans and carrots. After 1 minute, add the char siu.
After another minute, add the cooked, drained noodles. Add more oil if needed. Stir to combine, then add the bean sprouts. Stir to combine, then add the sauce to the pan. Stir to combine.
Add green onion, egg strips and about half the cilantro. Stir to combine, Put lo mein onto serving platter or into bowl, garnish with remaining cilantro. Serves 4-6.