What a pretty, pretty day it has been! There is a light, fluffy snow drifting down from a pale blue sky. The air is still and everything is dusted with puffy, fluffy snow.
We had our book club gathering this morning. It's a simple gathering where we discuss our book and visit. I like hosting so that Little Bit isn't tearing up anyone else's stuff...plus it means we get to make refreshments!
Little Bit likes cookies (who doesn't?) and LOVES sprinkles! We've been telling her that Christmas is coming and that it's an extra special time for sharing and giving presents. Last night we made cookies for the book club ladies.
I wanted to keep this as simple as I could. As much as I love to fuss and bother with a recipe and making each cookie photogenic, that was not our goal for these cookies. Making them and decorating them was for fun. They are infused with a lot of love. With all that in mind, we used a cookie mix and frosting (and yes, we got them free with coupons!)
We took turns stirring and mixing the dough and rolling it out. Little Bit was happy to let me 'cut them out' and get them on the pans so we could get to the sprinkles part!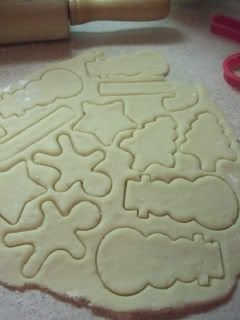 She did a great job! (I only helped a little.)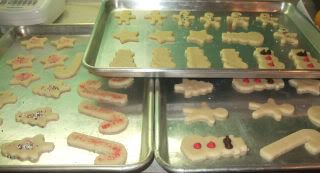 While the cookies were baking, we worked on the packaging. Some of the cookies will be for eating at the book club meeting, but we are making take-home bags too. They are simple - just put the treats in a clear plastic bag/baggie/Ziploc and make a top piece from card stock. We stamped ours with a gingerbread man roller stamp and then colored it with red and green accents.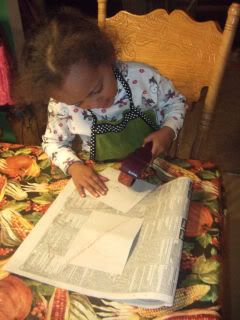 Once the cookies were out of the oven, we did some official taste testing.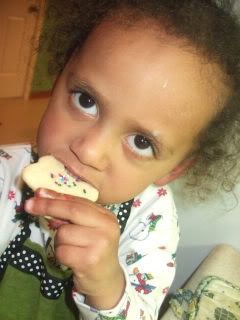 Then it was time for frosting and sprinkles!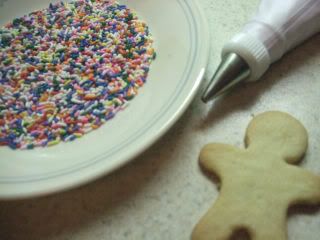 When we were getting frosting into the pastry bag we noticed this...it's a coupon for 50 cents off another cookie mix! They are $1 at K-Mart right now, and K-Mart is doubling coupons, so our free frosting could get us some free cookie mix...again!
Anyway, back to decorating. We piped on a little frosting. We're going to dip this in sprinkles, so it doesn't need to be perfect.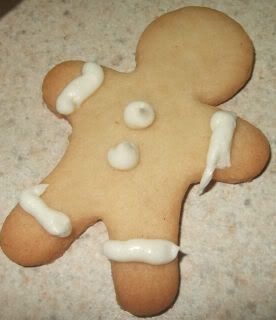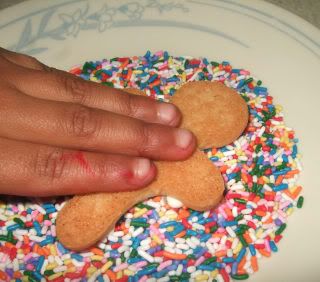 Then, we piped on eyes and a smile!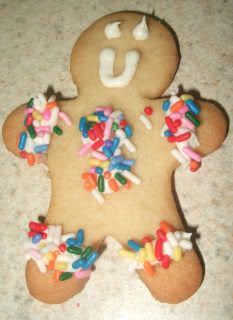 Soon we had a counter full of cuteness!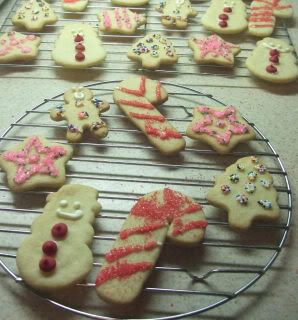 The ones with frosting are for the book club meeting. The ones with 'baked on' sprinkles are for the gift bags. They were all tasty, and the ladies really liked their presents! Little Bit did a great job making and sharing her gifts.