We don't have our tree up. We don't even have our tree upstairs! However, we're starting to put out some of the smaller items. Little Bit and I took down the decorative things in our dining room and replaced them with Christmas and Winter decorations. Cute, yes?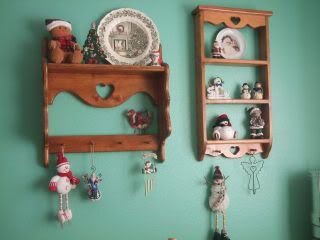 So I'm wondering...when you decorate for a holiday, do you put away some of your everyday things? I do, because it would be too cluttered otherwise, but I'm wondering what other people do!
Secret Spy Stuff!!
Last night we made some progress on Little Bit's Christmas Surprise! Go
here
to see what we've done so far, and please, feel free to share your ideas and input!