Mercy, I started this one on Wednesday, but now it's Thursday! Slow down, World!!
Gosh, where does the time go? We've been busy with writing Christmas cards, packing up pressies...and we're going to get some things (not all of them) in the mail tomorrow! I really enjoy gathering everything, writing the cards, all that, but I always feel relieved when they are on their way too! (Last year, the Grandparents got the Christmas scrapbooks in.....June. eep!)
For obvious reasons, I can't show you what we're sending to family - they might see it! However...we are really wanting Little Bit to think of Christmas as a time of giving, so....
We did this neat 'Adopt a Senior' thing that we saw on a tree in Walmart. We picked an 'ornament' from the tree.
The lady would like a clock radio with big numbers. Time to go shopping! This one has big numbers, and it sets itself, even if the power goes out. It adjust for daylight savings too! (I wonder if it makes coffee?)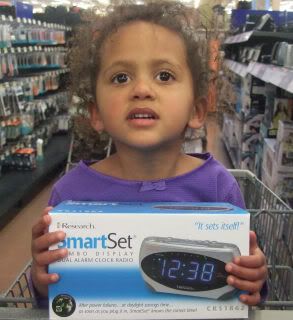 We went through our stash of freebies and gifts and found a nice gift bag, a flameless candle (these are cool - no fire danger!) and some hand lotion. We also added a snowflake ornament, but I forgot to put it in the picture. I've been doing that a lot lately!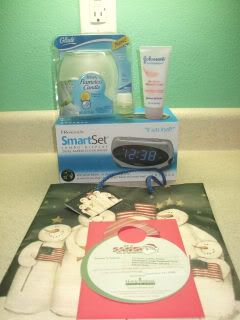 We wrote a card and packed it all up. We hope she likes it! :)
The gifts are supposed to be unwrapped, so we didn't actually wrap anything - we just stuck it all in the gift bag. We also left the envelope open on the card, in case they need to check it or something. Tomorrow, we'll return the whole thing to the store. I'll try to remember my camera. We're taking some things to the food pantry tomorrow too, and finally mailing off the bulk of the Christmas cards and packages. I'm so happy to have them (almost all the way) done!
How are you doing with your preparations for Christmas? Leave a comment and let me know.