We went out this afternoon to use some coupons in conjunction with some sales. Little bit and I got all of this:
and all of this: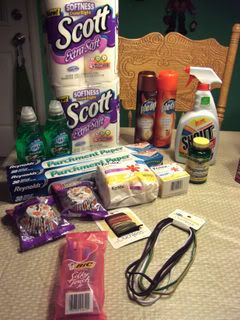 AND 5 pounds of long grain rice and a pound of pearled barley (forgot to put them on the table - oops!)
for $24.97!
We used $52.73 in coupons, and sale prices saved us another $26.76. Wow.
Oh...and of all the stuff in the pictures above - this stuff was free. Meaning, the coupon I had paid for the total cost of the item. The non-food items had some sales tax, but I also had a little bit of coupon overage (when the coupon is worth more than the cost of the item), so really - these were all FREE!!! WOOT!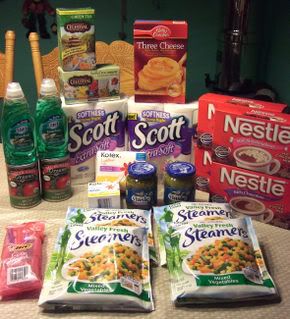 Wait a Minute! Those two cans of tomatoes shouldn't be in that photo. But all the rest of it was free. (I'm too lazy to get all the stuff back out and take another picture - sorry!)