We've been pretty busy the past few days, working on projects around the house and preparing for Thanksgiving. Hubby has been working on the wood pile, and most all of the salvage wood is cut up now! I have some piles to get stacked, but look at all this firewood!
This is all that's left to cut up!
Piles (to be stacked)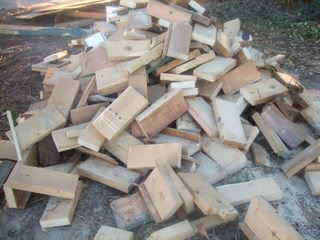 Mt. Firewood (six rows deep!)
Some of the wood has nails in it, so those pieces get tossed on the top of the previous stack. It may not be pretty, but it'll keep us warm!
Meanwhile, we got a few things from the fall order with our co-op. Pecans (huge ones!), almonds, a tropical dry fruit mix, raisins and....five pounds of baking cocoa! Actually, all the stuff we ordered comes in 5 pound bulk bags, but five pounds of cocoa - to us, that is a lot!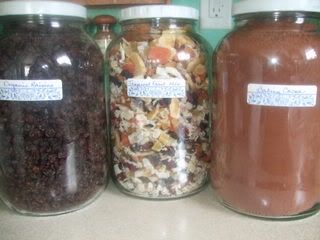 I've been cleaning out and organizing my kitchen cabinets for several days. I just do one, then another...and eventually, things should be less cluttered and more organized. Remember when we went to the carnival, way back in May? This is what cotton candy turns into if it gets 'lost' in the back of the cabinet.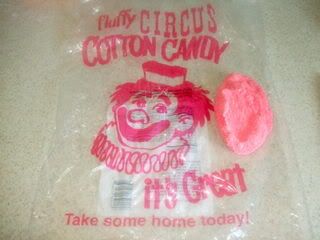 Is it me, or does that look like it came out of a (very pink) cow? Even the clown looks a little embarrassed!
So far, we're on track with Thanksgiving preparations. I didn't get cloth napkins made like I wanted to, so we'll use the ones we have (which are 'very assorted', hee hee). However, the turkey is thawing, as are the mashed potatoes, gravy, and pumpkin for the pie. I'll make the pie tomorrow, prep the carrots, and gather all the nonperishables. Hopefully all the preparations and cooking will come off without a hitch!
Best news of all, Little Bit decided that potty training was on her personal 'to do' list recently. She went from being a diaper kid to being 100% potty trained (even through the night!) in no time flat! Yay for our girl!
Psst...wanna know a secret?
We've started on Little Bit's Big Christmas Surprise. Because she often sees my blog, I'm going to have to figure out how to show y'all what we're doing. I don't know if I'll just post links to photos, or set up a secondary 'secret spy stuff' blog for entries about it. It is so neat - I can't wait to share it with you!
So, what'cha been up to these days? Got any projects going on? Let us know! :)