I meant to post these the night we got home! Anyway, here is our little one's experience as a 3-year-old Trick or Treater!
All dressed up and ready to go! We got this costume a couple years ago on after-holiday markdown for $2 or $2.50. I couldn't even buy the fake fur for that kind of money! Plus, she's been using it for dress-up play for a little while now.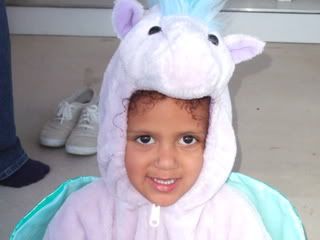 Visiting next door!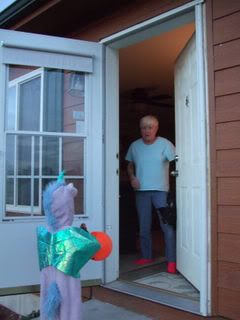 After visiting next door, we went to a neighborhood - otherwise we would have spent most of our time getting her in and out of the car seat! She had so much fun, and she was so brave!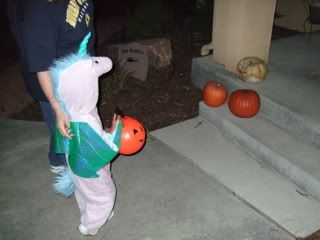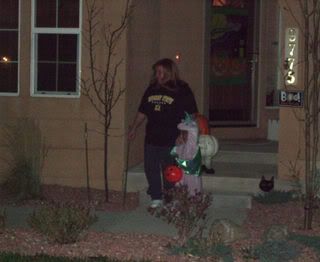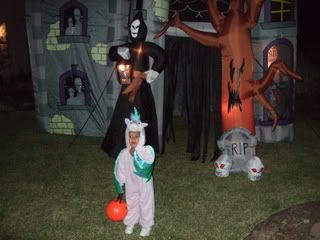 It's hard work, gathering all that candy.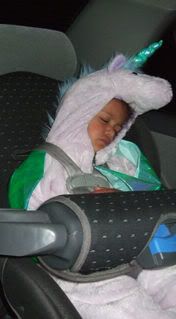 Tradition at our home is to come home and take a photo of our little sweetie with all her 'loot'. We've done it every year. She sits on (or in front of) the couch, we pour out the candy, take the picture, that's that.
Didn't quite work out as planned this year. Hee hee...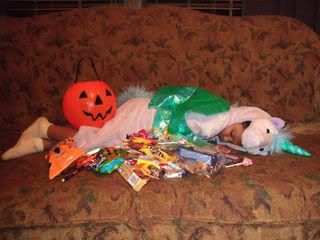 So, we picked up her candy, made sure everything was safe and put it away. Here she is a couple hours later, plumb tuckered.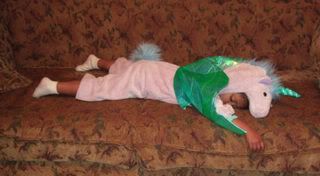 Bless her heart, she didn't get to eat any of her candy on Halloween - she slept through until the next morning! She has since had plenty, let me assure you! She had a lot of fun. I hope you enjoyed the pictures!