This is some easy soup to make, especially if you cheat like I did and buy some broth at the store. I've got enough chicken broth to fill a cauldron, but not a drop of beef, so there ya go. Anyway - here are the ingredients! (I made the bread - yay!!)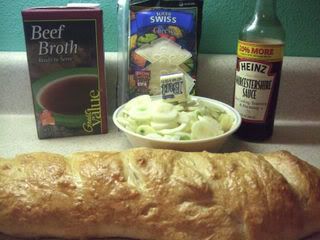 For those of you who might want to try this, it's the recipe from my Better Homes and Gardens cookbook. I halved the recipe, so we wouldn't have to eat onion soup over and over again.
3c. thinly sliced onion, (about 3/4 of a pound)
(Do not let Little Bit see the onions!)
2T. butter or margarine (butter)
4c. (one 32 oz. container) beef broth
1/2 t. Worcestershire sauce
3 to 4 slices French bread, toasted
Shredded Swiss cheese
salt and pepper
First, melt the butter in a large saucepan.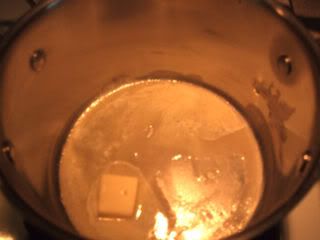 When Little Bit isn't looking, add the onions.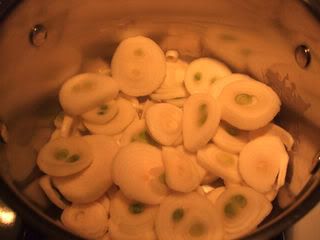 Cook onions, covered, in butter about 15 minutes or until tender (low heat). While the onions are cooking, toast the French bread and get it ready for the oven. (I'm using my really ugly pan, because it does the best job toasting bread!)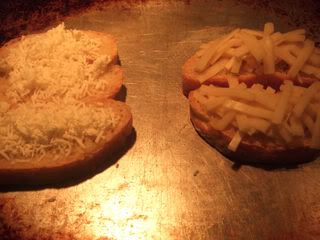 I don't like Swiss, and Little Bit decided Mozzarella was best for her too. And, if you're wondering why the Swiss is chopped up slices, it's because the slices were 10 cents per
ounce
cheaper than the blocks of Swiss. Easy decision, that.
M'kay, when the onions look like this....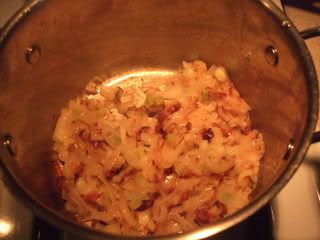 ...add the broth, Worcestershire sauce, and a little salt and pepper (salt and pepper to taste). Turn on the broiler. Tell Little Bit that we're having 'Trout Soup' for supper.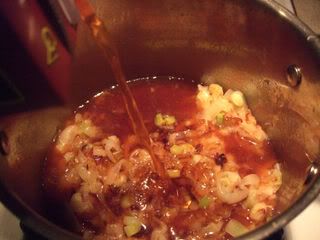 * * * * *
The STORY: Little Bit does
not
like onions. She loves trout. One day when we were eating homemade pizza, she lifted off a piece of onion and asked, 'Is this Trout?' Terrible mother that I am, I said, 'Yes, honey, it sure is.' She ate it, and picked off the rest of them, ate them too. So, in our house, we put 'Trout' on pizza, in chili and spaghetti, and now, we make 'Trout Soup'! Yes, I know I'm awful. Now you know too. End of STORY.
* * * * *
Get out the bowls, set the table, all that. When the soup is nearly to a boil, put the bread under the broiler to melt the cheese. When everything is ready, ladle soup into bowls and float a piece of melty cheese bread on top.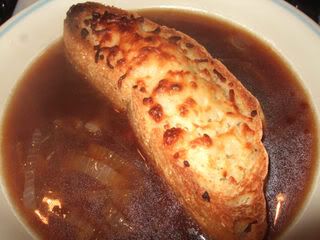 The Swiss one was MUCH prettier, but by the time I remembered to take a pic, it was already being eaten! ;)
The soup was pretty good! Light, and not a full meal - we found ourselves snacking later, but it would be awesome with roast beef sandwiches instead of the bread-cheese deal. We grew a lot of onions this year, so I expect that we'll be making this now and then. It is ridiculously easy to make - give it a try!