I did a bit of googling, took our saved popcorn husks and made my first corn husk doll! It's not perfect...but not bad for a first try. You can make a traditional corn husk doll very, very easily!!
First, you soak the corn husks in water to soften them and make them pliable.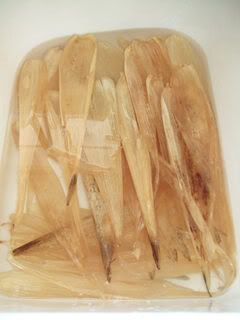 All you need is soaked corn husks, string to tie and scissors. I'm using yarn so it's easier for you to see. OK, reality, I can't find the string, and the yarn was right there. Hee hee.
Once they are soft, select four individual husks that are about the same size. I'm using the icky looking ones since this is my first try. Trim off the hard part where the husk was attached to the corn stalk, or stem, or whatever that's called.
Tie the thicker ends (the ends you just trimmed) together. Tie it snugly.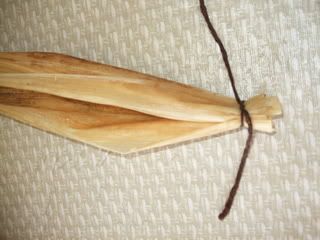 Flip the whole thing (two to one side, two to the other side)to cover the part you just tied. This will become the head.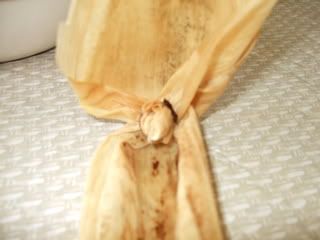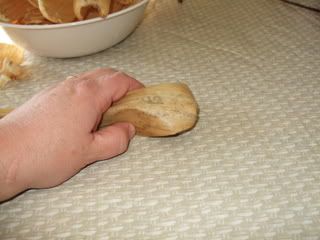 Tie under the 'lump'. That's the neck - it's already starting to come together!!
Trim the string pieces close, and separate the husks - two to one side, two to the other.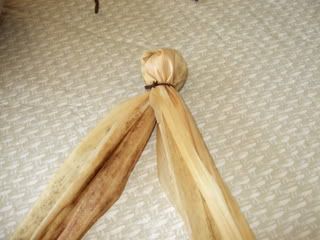 Take another husk to make the arms. Roll it, and tie both ends, trim them. It will look like this: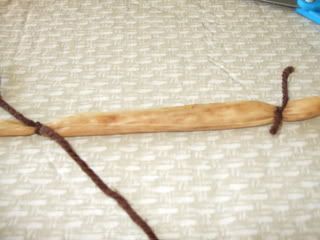 Slip the 'arms' in that space you made when you separated the husks into two pieces, like this: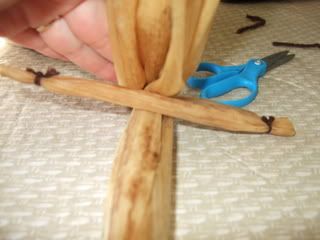 Bring down the two pieces and gather them...tie them, and now you have a waist. And arms! Woot!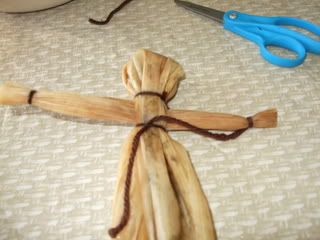 Now you have a corn husk doll that needs to be trimmed at the base. Once you do that, you have a 'girl' in a dress.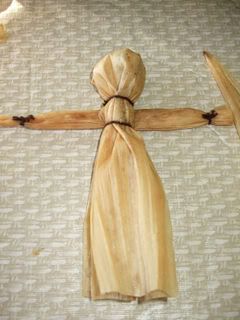 Gather up (or gently tear) some narrow strips from yet another corn husk. You'll use these to cover the string ties.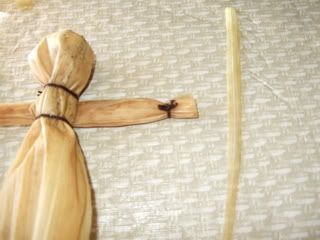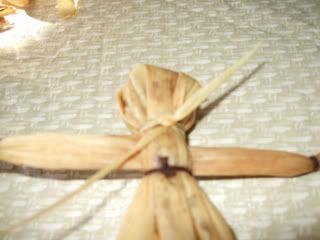 Since I used dark brown yarn, you can still sorta see it, but if you used string, the husk would cover it just fine!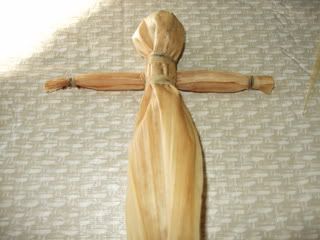 Taaa daaaa!
For a boy, separate (gently tear as needed) the 'skirt' into legs. Tie them, cover the ties with narrow corn husk pieces, and you have a boy!