I've been baking our bread for a while now, with mixed results. Sometimes it would be so pretty, so fluffed up, so nice...other times, more dense and short and, while edible, not the greatest. I blamed the high altitude and luck, and continued to try, but sweet hubby did a little online research and found
this article
. Armed with a better understanding of the forces at work at high altitude, I've been consistently getting breads that look like this!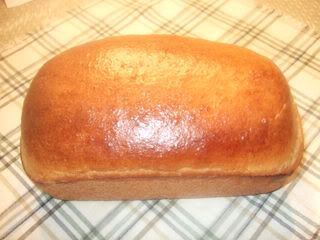 I guess my recent success with the daily bread made me a little too hopeful, though. Yesterday, as the loaf above was in its first rise, I decided, out of the blue, to make bagels.
I made bagels once, a long time ago, and I remember them coming out really nice. That was not what happened yesterday.
I think things went bad early on. I don't remember having to put them under the broiler that first time I made them...but it was a long time ago, so I just followed the instructions and did what the recipe said to do. It didn't really seem to help, but I continued on.
When you make bagels, one of the steps is to put them in boiling water, simmer them for a few minutes, then take them out, drain, and after that, you bake them. The first time I made them, they came out of the water shiny, puffed, and while pale, very bagel-ish. When these came out of the water, they looked shrunken, shriveled, dense, and yucky. Still, I didn't give up. Did a quick egg wash for the ones that were getting poppy seeds or sesame seeds, and continued on with baking them.
Even after baking for the maximum time, they were not right. Thank goodness we have the chickens, who might actually eat some of these. We did a bit of taste testing. They say that looks can be decieving, but in this case, they really are as bad as they look.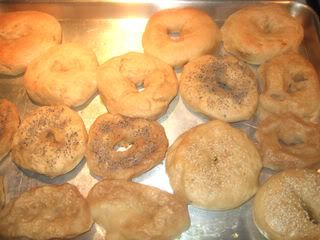 They are heavy, dense, doughy, and to my taste, a bit salty. Hubby detects some potential for bagel-y goodness in there, but before I try again, I plan to do some research on the bread sub-species that is 'bagel'. Until then, we'll just enjoy our bread!
What do you enjoy baking? Ever have a baking flop? Leave your comments and/or links!