Unbelieveable, and free.
When we moved into the house, we put the kitchen table under the kitchen table light...centered it, and that was that. It's not a large table - 3' by 5' - but it has always seemed a little too big for the space. It's difficult to get around it to sit on the side nearest the window. Not horrible, just, difficult.
Today I was mopping the floor. I moved the table against one wall so I could mop more easily. Between scooting the table, fussing at my daughter for walking on it (at least fourteen times), mopping and re-mopping to get her footie-prints cleaned off my supposedly clean floor, the table got turned a quarter turn.
For the fun of it, I put it back under the kitchen table light that way. Suddenly, there is a TON of space on either side of the table. It's really easy to access. It isn't in the walkway, and it doesn't even go all the way to the far wall. I am so, so happy!
Sure, you're probably thinking I'm a nut...or that it doesn't take much to make me happy (which often times, is true), but just look at how much space there is around this table! WOOT!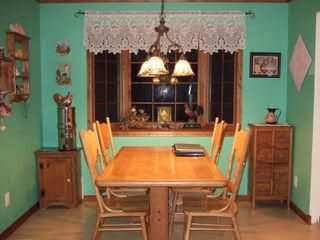 I guess I just never 'saw' this possibility. Now I want to move all the furniture in all the rooms, just to see what happens! OK, I'm way too lazy (or busy) to do that...but this has been a great lesson!
So, anyway...while my table is clear of piles of magazines, coloring books, bills, sippy cups, etc....let me show you something else! While we were home for our visit, my mom showed me some quilt tops she has pieced. She has a LOT of them. Seriously, a LOT, and they are all beautiful. She told me to pick some, and I did! It was difficult to narrow it down (and I'm still thinking about that really pretty blue one, Mom), but here are the ones I brought home. Apologies - I spread them out on my kitchen table, so these are just parts of them. I should have put them on my bed or something, but that sounded like work. Anyway, on to the visuals!
I love the colors in this one!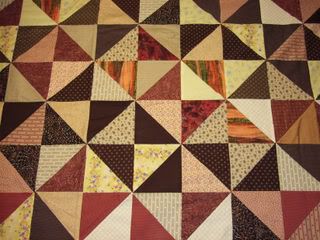 This one is so pretty, and happy, and 'not me', which is why I wanted it! I tend to go for neutrals, even though I love bright colors too! And when I get this one done, it'll really pop in our mostly blue bedroom!
Little Bit's bedroom is yellow - so this one will go in there!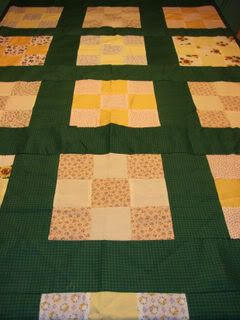 And I adore this pattern!!
There were so many, y'all, it was hard to choose! She's got some beautiful applique ones (you should have seen the butterfly one!) and lots of gorgeous patterns and colors. I'm going to pester her for photos, and then I'll share them here!
Thanks, Mom! I love them!