I was thinking about it earlier today, and I bet there will be a lot of 'how to cook your jack-o-lantern' blog posts for this Frugal Friday. Not me! We're gleaning popcorn!
When we were back in Kentucky visiting family, the man who farms next door to Uncle Bill's Cabin said we were welcome to glean his popcorn field. The deer had already been through, but we did find a few intact ears of popcorn. So, what do you do with them after that?
Since we just have a few ears, we're just shelling them by hand, on the front porch, on a warm afternoon.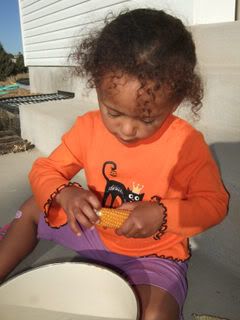 The bowl is filling up!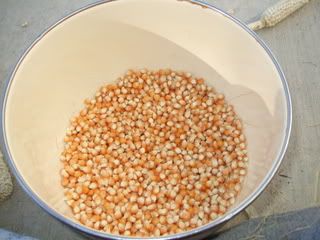 There are some things in this bowl we don't want to eat - corn silks, bits of cob, etc. So, we're going to winnow our popcorn! All you need is a light breeze (or a fan) and a couple of containers. Pour the popcorn back and forth, slowly. The popcorn kernels are heavy, and the other things are light - so they will blow away on the breeze, leaving us with clean popcorn.
Now, just to be sure, we'll put it in the colander and 'sift' it a bit. That will get any heavier bits of cob separated. And, this is such a small amount that it's very easy to visually inspect it, too!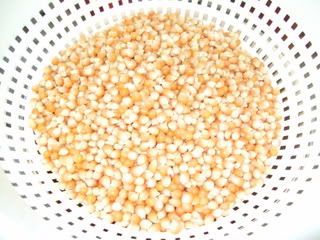 The 'waste' will go to the chickens - so nothing is wasted.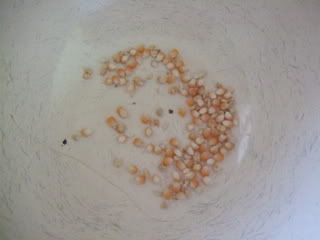 There it is! Our gleaned popcorn! We store our popcorn in the freezer, which ensures it won't get nibbled by any bugs. Frozen popcorn is supposed to pop bigger too!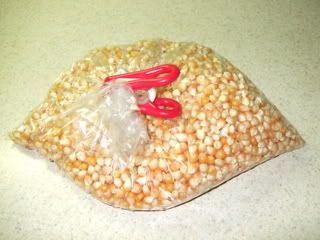 Our total 'harvest' was almost four cups. We usually pop a half cup in our popper, so that's 8 movie nights! Not bad for a fun little (free) project, and some neat learning. We saved the corn cobs - we'll burn them in the wood stove - and I saved the husks as well. If I can figure it out, we're going to make a corn husk doll!