Remember when I posted about us having the old home place taken off the property? Well, they finally got finished...or at least as finished as they are going to get. We have had many great experiences with contractors. This was not one of them. Still, we went from this: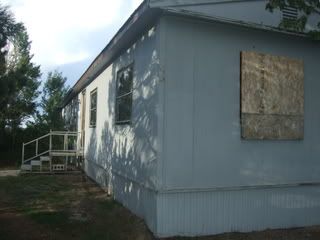 To this.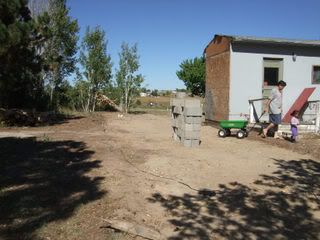 Sure, it took two weeks (instead of four days) and Hubby and I did about a third of the floor ourselves because we wanted to seal up the end of the 'shed' and there was still mobile home in the way, but at least it's more or less done. We have some concrete we'll have to break up/dig out, some tie downs to dig out, and we'll need to side/paint/re-roof the shed, but the mobile is out. WOOT!
Also, the guy decided last minute NOT to salvage the concrete block, and left it for us. For some reason, I'm really happy about that. They seem really full of possibilities. There are about 50 of them - I'm sure we can come up with some neat uses for them.
*****
This morning when I went out to check the garden, frost had bitten all the tender plants. The green beans are done, as are the zucchini, pattypan and yellow squash, the pumpkin and winter squash vines were killed off, and so were the tomato vines, purple hull peas and melons. The little one helped me pick a lot of tomatoes. If they had even the slightest blush, we put them in one bucket, and then we have about 2 gallons of completely green tomatoes too. I read a recipe for a green tomato salsa the other day that sounds awfully good - we may have to give that a go.
Then, the pumpkins. Even though they all have some green on them, and some of them are almost completely green, we harvested the pumpkins. I am hoping they will continue to turn orange after they are off the vine. If not...well, they were about to get a really hard frost, so this seemed like the best choice. As windy as it gets here, covering them with blankets overnight is not that reliable. So, we picked them.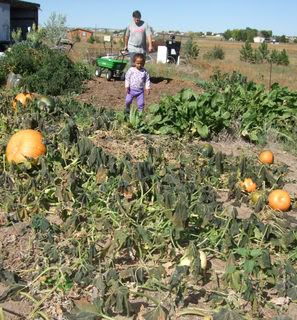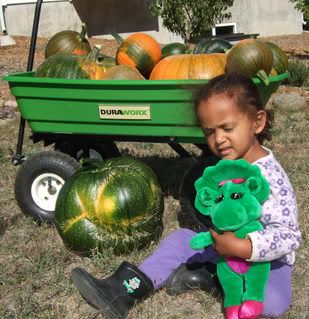 And, of course, I weighed them. Our total pumpkin harvest for the year - 157 pounds. WOW.
*****
After a season of planting, tending, watering, weeding...this is our watermelon harvest.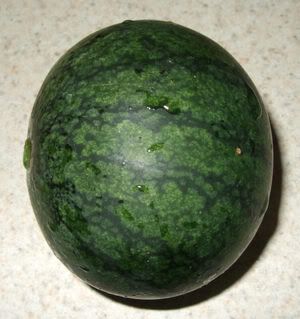 It is roughly the size of an apple. Still, we might as well give it a try, don't you think?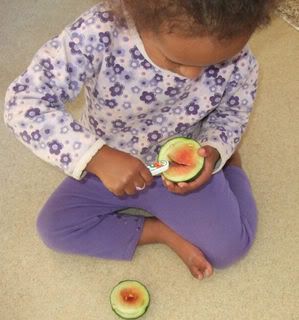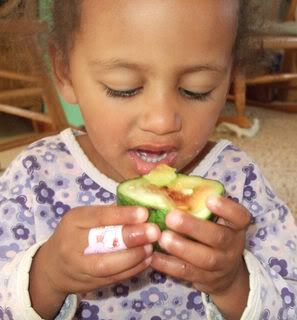 I got a wee taste. It was really pretty good, just small, and with a lot of white rind. And she was not disappointed. Rather, she was happy that she grew her own watermelon! But that's the end of that crop...so now she'll have to eat pumpkin!