I'm still trying at least one new recipe a week. Here's one we did a little while back...complete with our take on how it turned out!
First, you bake some potatoes! Let them cool before proceeding, at least enough to handle them safely (We actually baked them one day, and made the recipe the next day.)
Scoop out some of the middle (you can eat this with some butter, salt and pepper at a future meal), but leave some too, so they are substantial enough to hold together, fill you up, etc.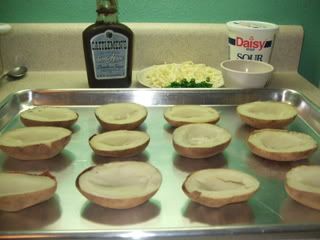 Use the back of a spoon to spread on some barbecue sauce.
Add some shredded cheese and cooked, crumbled bacon.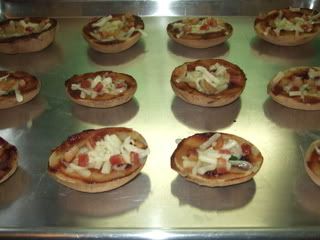 Once they are hot and the cheese is melted,
add some sour cream and green onion, then serve.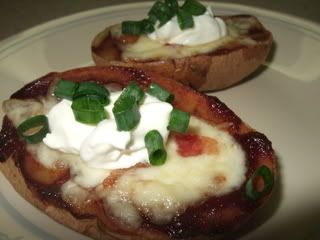 These were 'okay'. Kind of bland, though I have to say our daughter thought they were great 'as is'. Maybe I should have used a 'hot and spicy' type of barbecue sauce. Maybe there was too much potato for the other stuff. And...I used some muenster cheese we had on hand. It's a very light, mild flavor. Cheddar would have been better...or even pepper jack! We doctored them with a sprinkle of salt and a healthy dose of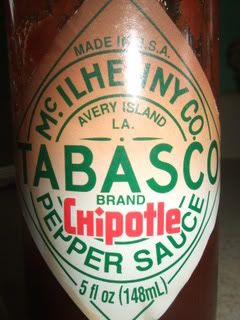 (My personal philosophy is that smoky chipotle tabasco makes just about everything better!)
So, next time, I think I'll oil/salt/pepper the potatoes before baking. I'll use more sauce, stronger cheese, more bacon. These are good, fairly simple to do, and they are a popular appetizer that's also pretty inexpensive (and filling!). I'll keep that tabasco handy too!