We dug the rest of the potatoes today, and goofball that I am, I weighed them. We planted about 9 lb. of seed potatoes this year, and harvested 95 pounds of potatoes for eating. I'm really happy with that number, and with all the fresh potatoes.
The gophers found the roots to the spaghetti squash, and they're trying to find the ones for the butternut squash, so we harvested our winter squashes today as well. I hope we like that spaghetti squash, because we sure do have a lot of it. I've never had it before...I got the seed packet for a dime and thought, 'why not?'. I hope they're good...any recipes to share?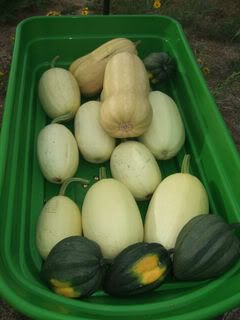 I brought in a few more cured onions. Only three pounds in storage so far, but I still have quite a few curing under the deck, plus there are still a lot growing in the garden. The harvest column (to the right) has been updated, if you're interested. We still have plenty to harvest and bring in. It looks like the late peaches will be ready any day now, and check out our big pumpkin!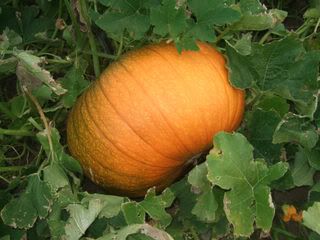 We got a snazzy new wagon this weekend. I like it a lot, and it looks like I'm not the only one.