Her piggy bank was getting pretty full, so we took our little sweetie to the bank this past Saturday and she opened her first savings account. She is probably a little young to really 'get it', but she is excited about taking her money to the bank.
No wonder - they gave her all sorts of treats and gifts! Candy, balloons, a ladybug bank...she was so happy!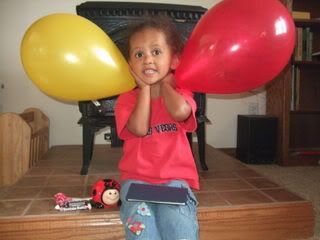 This is not her college fund or anything like that - this is just for money she gets or earns (allowance or $$ for chores as she gets older, birthday/holiday money, etc.) We want to teach her to save some, give some, and spend some. For now, she's just happy because the bank where she has her savings account has a treasure chest full of lollipops!
If you have children, what, and how, did you teach them about money, finances, all that good stuff?