Quick Note: I wanted to pretty things up a little bit. I hope you like these colors and that it's all easy to read and navigate. Let me know if there are problems and I will gladly make necessary adjustments!
* * * * *
Remember when we got that
package at the post office
? Well, they have been growing too, just like the garden!
Actually, the broilers are all 'dispatched' at this point. I won't go into detail, because I think most of you would rather I didn't! Anyway, here are the White Plymouth Rocks. They are supposed to all be hens, but I think one of them crowed the other day.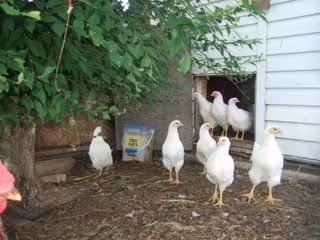 One of the roos is peeking at the camera too!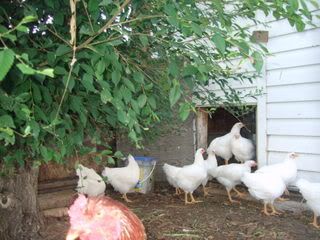 They are growing well, and they seem to have a good nature about them. Already, they are happy eating bugs, grubs, weeds, scraps from the house and excess from the garden. They are fairly calm and quiet, and not easily upset. I just can't wait until they start laying!
They are just a couple months old, so it will be a little while before we start to get eggs. This breed lays brown eggs, which are fairly easy to sell. I haven't decided what to do yet - sometimes I want to keep them all and sell eggs, other times I think I'll sell all but a small flock and just keep to ourselves. Either way, we should start getting eggs from the White Rocks in roughly 9 more weeks.
Do you have your own hens, or do you buy eggs from someone local? I'm curious to hear what people pay for a dozen eggs in different areas. From what I'm told, people are getting $3 to $3.50 a dozen in my area these days for non-medicated, free-range eggs. On the other hand, I have read some recent posts on message boards saying people are getting 'farm eggs' for 75 cents a dozen, so I guess there is a big range!