I guess I have to give credit where credit is due. If it weren't for all the gophers in our field, we wouldn't have been in Ace Hardware, buying a set of gopher traps. And if we hadn't been in Ace Hardware buying gopher traps, we wouldn't have seen the display of drastically marked down seeds. So, there's the silver lining to my gopher cloud, hee hee.
If you don't save seed year to year, or if there are some things you don't have that you'd like to try, this is the time of year when lots of stores discount whatever seeds they have remaining. I know that seeds are packed for a certain year, but I have to admit, I often plant seeds that were purchased years before. I'll also admit up front that I'm not the best about storing them properly. Technically, I think you're supposed to freeze them year-to-year. I have ours in the basement in a cool dark place (and our basement is plenty dry).
The seeds we picked up today were 25 cents a packet, an many of them were not standard size packets, but little plastic baggies of seed with a top tag, and a lot more seed in them. If we had paid full price, we would have spent $80.22, but our seeds only cost $13.50. We saved 83% - a look! (Apologies for the glare from the flash - I tried a few things, but kept getting glare. Sorry!)
We got the seed for next year's sweet corn, green beans, lettuce, climbing spinach, lima beans (these will be a new experiment for us), beets and parsnips. We chose some pumpkin and squash varieties that we've never tried too - turban squash, mini pumkins, 'blue moon' pumpkins, and those white 'casper' pumpkins you see sometimes, that are white skinned with orange flesh.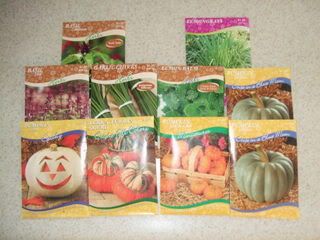 For the herb garden, we'll be able to add garlic chive, lemongrass, thai and cinnamon basils and lemon balm. We even some ornamentals to add to our landscaping - bunny tail grass, cloudgrass and some pretty flowers and vines.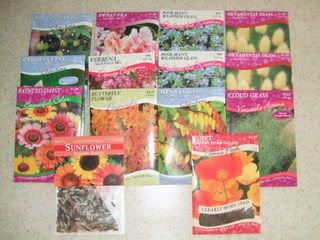 We picked up several gourd varieties as well as some ornamental corns. Two types are an edible popcorn, the other an edible dent corn, so once we're done lookin' at 'em, we can eat 'em! Finally, I got Corn Salad, too! It's a green - sometimes called mache, that I've been trying to find for a few years.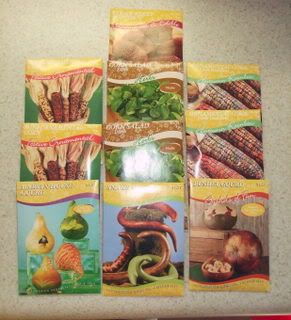 So, if you're a gardener, you might want to check some of the more out-of-the way little stores to see if there are some seeds you'd be able to use!