I hope to do this weekly, if not more often. Truth be told, I'm going to make a concerted effort to try at least one new recipe each week. The main reason? I have this pile of magazines I've saved, for the recipes. I need to try the ones that appeal to me, and figure out if they are keepers, so I can get rid of this magazine pile!
That said, this week's new recipe isn't from a magazine. It's a modification of a recipe I got from a friend. Here we go!
CROCK POT RED WINE MARINARA
(from my friend Windy)
You will need:
Here's what I did:
1. You can do this in the blender or the food processor. I chose to do little batches in my chopper because I didn't feel like cleaning the blender. Path of least resistance, yo. Quarter the small onion and put it in the chopper with some of the diced tomatoes. I was supposed to use a shallot, but I had onions, so that's that. Run the chopper until things are fine, but not puree'd. By the way, this is a total of two 14.5 oz cans of diced tomato, with the onion.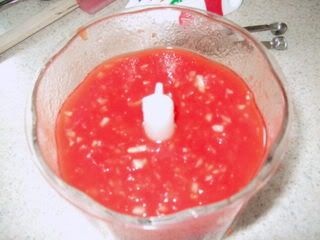 2. After three batches, I had all the tomato-onion in the small crock pot. My mom got this crock pot for me. I LOVE it for smaller things. It's the best! (Thanks, Mom!) Oh, yeah. Marinara. Sorry.
Add:
1 6oz can tomato paste
1 lg. clove minced garlic (I used the stuff from a jar)
1 t. Italian seasoning
1/2 t. dry basil
1/2 t. sugar
pinch salt and
a generous dash pepper.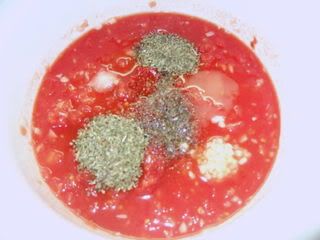 Allow your sous chef to stir the pot whilst you try to remember how the corkscrew works.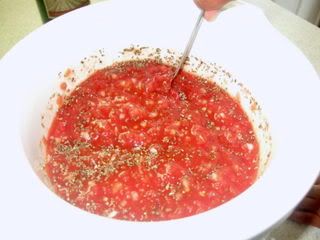 Seriously, I spent about 5 minutes fussing with it before I got it. Whew! Add 1/3 cup red wine. We used a Merlot.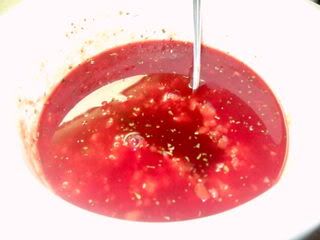 Let your sous chef stir some more (like I could get the spoon away from a toddler at this point! hee hee) whilst you try to get the cork back IN the wine bottle. Realize that those screw tops are actually kinda cool. Your sauce is now ready to cook!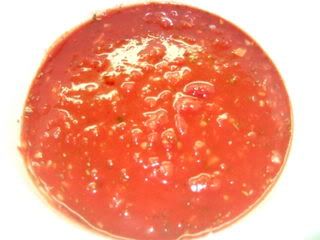 We kept the crock pot on high for a few hours, then I put it on low. I stirred it once in a while. Nothing specific. When we got closer to dinnertime, I tasted it and it seemed a bit to 'bright'. I added:
1/8 t. salt
1/8 t. garlic powder
1/8 t. italian seasoning
1/4 t. sugar
This was probably about an hour before we ate. I do think the extra bit of spice (and sugar) helped. It seemed a little more mellow and flavorful, but still fresh and tomato-ey.
The end product was part of our supper. We had Spaghetti Marinara with fresh Basil (from our herb patch!) and Parmesan, Zucchini and Onions from the garden and Garlic Bread.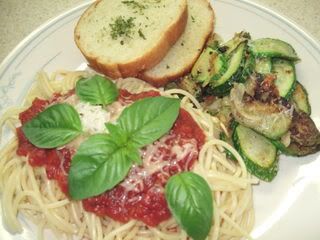 It was good. I could tell the wine was there, but it wasn't overpowering at all. I'm especially happy because with couponing, I have really stocked up on tomatoes and tomato paste. Two cans of tomatoes and the can of paste only cost me about 23 cents total. The spices are all things I have on hand, and the bottle of wine was about $7 (and I only used 1/3 cup!). So, I think I'll be getting out the BIG Crock Pot and making a huge batch of this sauce, then freezing meal-sized containers for future use.
Thank you, Windy! Great recipe! Here's the 'seal of approval', lol.