Just for fun, I added a list to the right column where I can put everything we've gotten and put up for Winter from our garden/yard. OK, we didn't grow the strawberries for the strawberry jam, but we did make the jam. Other than that, everything is from here at home. Also, the list doesn't include the stuff we are eating every day!
Right now, the list is a bit embarrassing. My mom has already put up SO MUCH stuff, while ours is just starting to come in. Hopefully that list will continue to grow!
I brought in some onions today. These were the first ones I planted, just a small patch of them. The tops had started falling over, so they were done growing. They are white onions - not great keepers in my experience, so we got out the nifty chopper doohickey my parents got us a while back, and we chopped them up and bagged them for the freezer. Now we have four 1 1/2 pound bags of onions ready for soups, stews, chili, or anything that calls for chopped onion. I've never really done this before, so I don't know if I have enough, too much, or what. Most of my other onions are yellow onions - those keep well, so we'll store them in the pantry for fresh all through Winter.
And, here are a couple of pics from earlier in the week:
'Tropical' jam. Isn't it pretty? Thanks and gratitude to Gayle for sharing the recipe! I did mine as a freezer jam (with that cool Pomona Pectin!) so that's why my jars have plastic lids.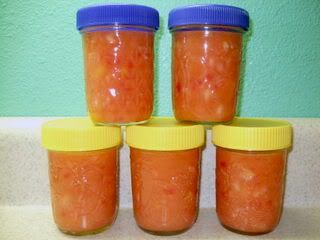 Jars of green beans. I know...big whoop. I had already hauled half of them to the basement when I took the photo, too. Still, there is something really satisfying about jars of beans (or anything else) that you've raised and put up!