(Note: We have a big day tomorrow, so I'm putting this up Thursday night, in case I don't have time tomorrow morning. Wish us luck - we're going trout fishing!)
I was flipping channels the other day, bouncing between two of the public television stations to see which one had 'Arthur' on at 11am. (Our daughter is
so
in charge around here!) As I was flipping, I saw Martin Yan, host of the show Yan Can Cook finishing up a really beautiful dish.
He said something really important. In halting English he said, "Look at this - cost dollar fifty. This one cost two dollar twenty-five. Food not expensive food, but it look expensive because of the NICE PRESENTATION."
This wasn't food for one person, y'all...it was easily enough to feed four. If Yan can do it, then so can I...and if I can do it, then so can you!
We hadn't had lunch yet, so I took Yan's statement as a personal challenge to see what I could do with lunch. The menu: squash and tomatoes, leftover rice/quinoa pilaf, parmesan and peaches. Any other day I'd stir fry the squash and tomatoes real quick, dump them onto the pilaf in a bowl, toss on some cheese, then eat a peach afterward. That's fine, too - nothing to be ashamed of there...but what if we had company coming? Could I make that same meal look nicer?
I'm not a food stylist by any means, but here's what I did:
First, I toasted a spoonful of pine nuts and removed them from the pan. Pine nuts are not super cheap, but you don't need many to add a lot of flavor. Keep them in the freezer and they'll last a long time. For pretty, I cut the zucchini on the diagonal. The pattypan squash remains a mystery to me, so I just cut it up in semi-even pieces.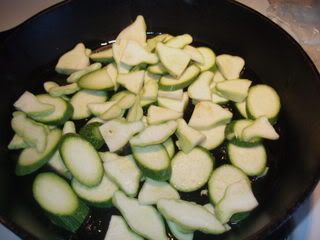 Once they were starting to brown I added some salt and pepper...then the toasted pine nuts, wee tomatoes (cut in half), garlic, lemon thyme and some slivered basil.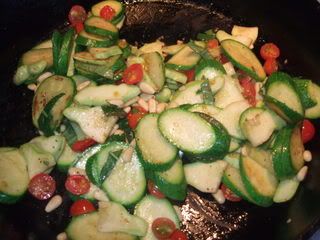 Meanwhile, I took the leftover rice/quinoa stuff and put in on a luncheon plate, in a circle shape, and warmed it in the microwave. While all that was happening, I shredded a little parmesan.
I put the squash stuff across the rice stuff, diagonally. I put the cheese on top, then the last bit of the squash, then a little sprig of lemon thyme. Pretty, yes?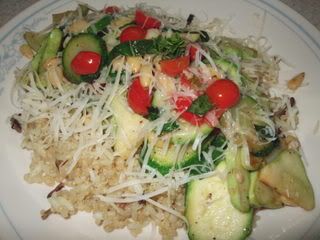 As for the peaches, I peeled them (the skins are fairly tough because it's been so dry) and sliced them. I made a 'sunshine' shape on the plate, with the extra slices kinda piled in the middle. I did spray whipped cream over the middle. Oh, and these cookies mysteriously appeared on our counter overnight.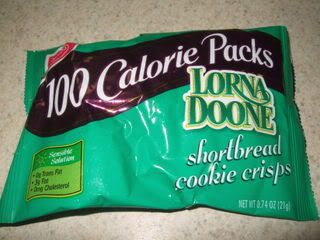 (Hubby works nights, so I assumed he'd brought them home. That, or we have a Lorna Doone fairy!) I crumbled four of the little mini cookies over the whole deal and....voila! Dessert.
Deciding to make this meal
pretty
meant that I took a little more time in preparation, but I noticed that we savored it more as well. Honestly, I think we enjoyed it more. I have to tell you - this meal cost very, very little. The squash and tomatoes are from the garden, as are the herbs. The peaches are from our tree. I got a rice pilaf mix with a doubled coupon for 5 cents (it is a little salty to us, so I make a cup of plain quinoa and we mix the two togehter)...and I get my quinoa in bulk. Even allowing some for the oil, salt and pepper, pine nuts, parmesan, quinoa and whipped cream, this meal fed three people for about twenty cents.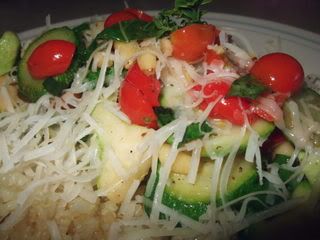 Total. For three people! That is really exciting to me. Even if you bought produce and didn't use coupons, this is a very affordable meal this time of year...I bet you could do it for about $2.50 for three people. Just remember, even if it's inexpensive, it can still look nice. Frugal doesn't mean dismal :)
What about you? Do you eat more consciously if the presentation is nice? Do you appreciate it more? Or, would you rather eat out of the pan and do fewer dishes? Does it matter? Leave a comment, and let us know what YOU think!