First of all, I'm happy to report that we got the replacement cable for the camera! I've uploaded the photos for this post, but there were over a hundred photos in the camera, so I have to weed through all of that before I add photos to the old posts. I'll get to it as soon as I can!
We did some grocery shopping today, and I have photos to share, I'm going to explain 'how' I got this stuff for this money, too. I hope it is helpful to you.
First, this is the stuff from Albertson's and King Soopers, combined. It's combined because I didn't think to separate it. Oops!
Did you see the little piece of paper that says $10.70? That's what I paid for ALL that stuff. Here's how:
King Sooper:
4 Fresh Pineapples $1 each
2 Suave Mousee $1.06 each (minus a coupon for $1 off of two)
10 Muir Glen Organic Tomato Paste .75 cents each (minus ten $1 off coupons)
3 Muir Glen Organic Diced Tomatoes 1.25 each (minus three $1 off coupons)
4 Candy Bars .25 each
2 Kroger Ice Cream $1.77 each
All of these items were on sale. Sale prices saved me $28.92 off of regular price. Coupons saved me another $14.00. Did you see how I 'made money' on the tomato paste? They were 75 cents each, but I had $1 off coupons, so $2.50 of those coupons went to pay for other stuff - say, 2 pineapples and 2 candy bars. The total at King Sooper was $8.07
Albertson's
3 Cheerio Snack Mix 3/$4 (minus three $1 off coupons)
3 Totino Pizza Rolls 3/$2 (minus three 55 cent off coupons)
2 Life Cereal from Clearance Basket $1 each (minus two $1 off coupons)
1.46 lb fresh green grapes $1.28
Again, everything on sale (or clearance) Sale prices saVed me $18.31, and I used $6.65 in coupons. Total at Albertson's was $2.63
I also went to Target. I paid for this stuff with 'my money' (and coupons) because it's not really groceries, and the shampoo was a money maker: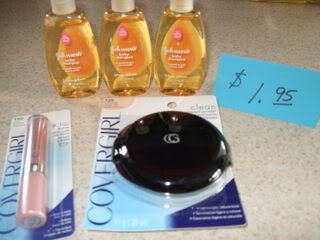 Target:
3 Travel J&J Baby Shampoo .89 each (minus three $1 off coupons)
CoverGirl powder 3.59 (minus $1 off Target coupon and $1 off Manufacturer's coupon)
CoverGirl lipgloss 3.14 (minus $1 off Target coupon and $2 off Manufacturer's coupon)
The makeup was on sale and Target lets you use their coupon AND a Manufacturer's coupon, so you can really get some savings. Since the shampoo cost less than the coupon, the overage went to help pay for my makeup! Total at Target was $1.95
Finally, WalMart: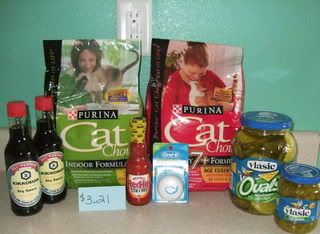 OK, at Walmart, nothing is really 'on sale'. They just have lower prices on this stuff than I saw at the stores in town today. They are also a couple miles from my house, which is handy. Here's the breakdown:
Soy Sauce $1.46 each (minus coupon for $1 off 2 bottles)
OralB Dental Floss .97 (minus $1 off coupon)
Vlasic 'Ovals' Hamburger Chips $1.78 (minus $1 off coupon)
Vlasic Dill Relish $1.08 (minus $1 off coupon)
Frank's Red Hot (extra hot) sauce .92 (minus 50 cent off coupon)
3.5 lb Cat Chow $4.12 (minus $4 off coupon)
other 3.5 Cat Chow $3.66 (minus $4 off coupon)
Tax out here is 4.9 percent (in town it's 7.9) and there would only be tax on the cat food and the floss. The overage on the floss and the one cat food was applied to other stuff, so the total was $3.21
So, today, I splurged and spent 1.95 on powder and lip gloss. Everything else in those other two photos was purchased for a grand total of: $13.91 I saved $47.23 by purchasing items on sale, based on sale price vs. regular price. I used $33.15 in coupons - some from the newspaper, some from online. Remember, forget the stuff at Target....everything else would have cost 94.29 not on sale, no coupons. I got the exact same stuff, just by paying attention, for $13.91
I saved 80.38! That is 85% off.
And if you look back, I've done stuff like this pretty much every week. Admittedly, I can't get everything we buy at 85% off, but if I can get some stuff for such a low expense, it frees up the rest of my grocery money to buy the things that don't go on sale. Granted, some of this stuff (pizza rolls, cheerio mix, candy, ice cream) is junk food. I confess, we eat some junk food. But there are four fresh pineapples, a lot of tomato products that will go into healthy foods, grapes and enough cat food to keep Mr. Morton happy for a good while. Between couponing, the garden, shopping sales and getting some items from our co-op, we do end up eating a pretty balanced, very affordable diet.
I find coupons online by reading at
this blog
. She outlines lots of great deals, plus she has a list of coupon site links on the lefthand side if you scroll down.
I hope this is helpful. I hope you're not sick of hearing about it. I'm new, and learning, and this is exciting to me, so I've devoted several posts to coupon shopping. I know a lot of people are looking for ways to save on the necessities, and I think this is a way that can work for many people.