What do you have planned? Anything fun?
Our weekends start a little early, and ends a little late. Yay for 4 day work weeks!
This weekend is a busy one. Yesterday was my birthday, so we went to town. My sweeties took me out for lunch! We also went to check out a new, gigantic Hispanic Mercado that just opened. I saw a lot of things that I don't know how to fix, hee hee. They could probably offer tours to people like me, so we could learn what everything is, and how to prepare it. The store was busy, the music was blaring - it was like a big party. We stopped at Culver's on the way home and got frozen custard as a special birthday treat. Olivia REALLY enjoyed it. (We all did!)
Today our food co-op has a huge distribution. I love distribution day, and the sense of community. The truck has 47,000 pounds of food and supplies. We all come together and get it unloaded and sorted, everyone comes to pick up their order - it's really amazing. There is a great deal of work that goes into planning, organizing, and processing an order like this. The entire organization is volunteer - the people who put all this together are angels.
I'm on the food crew, so I spent last night making lots of deviled eggs,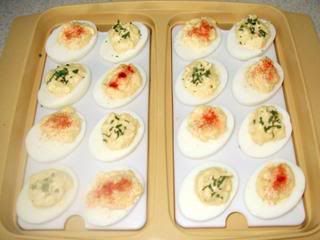 potato salad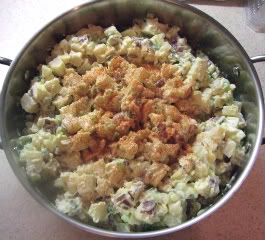 and cookies.
When I got done with all of it, I thought of something my Grandma used to say - "That's enough food to feed Cox's Army!" Indeed, we will have a lot of hungry volunteers.
So, this afternoon I'll be coming home with our order. Wheat, beans, oats, quinoa, milk powder, etc. The co-op is a great way to save on staple items. It helps me get wholesome, healthy foods at really great prices. Because everything is in bulk, there is less packaging too. That translates into better pricing AND it's earth friendly!