We did a few errands today - dropped some library books at the book drop, mailed Mother's Day cards and pressies, and picked up a few groceries.
You know how there are those women who go to the grocery store, get a bunch of stuff, hand over a wad of coupons, and pay little or nothing for all their food? I am kinda....sorta....one of those women.
This is the stuff we got at Safeway today: 4 whole chickens, a bottom round roast (which I had sliced for teriyaki), a 3-pack of ribeye steaks, broccoli crowns and a pound of fresh strawberries. (The photo is a bit blurry - sorry.)
It was all FREE. Let me explain. The cost on the reciept is $40.23, except I'm getting all that as a rebate. A new bank opened up inside the Safeway - up front near the customer service desk. They put out an offer that if you open an account with them and use the debit card for the account, they will reimburse you for up to $75 in groceries or gasoline from Safeway. (You can save multiple receipts.)
We decided to do it. In fact, when we went to the bank, they encouraged us to do two accounts - one for me, one for hubby - so we can each get the $75 reimbursed. It took about 30 minutes to open both accounts. I have to save and turn in the receipts. That will probably take about 10 minutes, but even if it did take 30...that's $150 an hour!
Okay, Walmart. Here's a picture of the things I bought. I had coupons for everything. My cost out of pocket: $2.62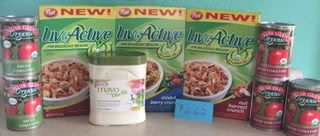 I'm still new to this, and I'm still learning. I don't know that I could get every single thing we eat free or super cheap, but there are a lot of things we are getting for very low cost or for free. Sometimes, I even 'make' a little money. The cereal was 2.98 - the coupons were for $3 off, so the other 2 cents were applied to something else I bought. I know...six cents...big whoop. Sometimes, my overages are several dollars, and they do add up!
So, how does one learn to do this? My suggestion would be to check out a really cool blog: www.moneysavingmom.com
I'm learning a lot from there. There are websites too, like www.hotcouponworld.com
Take it slow. It takes a while to get into the mindset, and to figure out what really makes sense for you and your family. Read up on couponing and rebates (I get all our toiletries for free through coupons and rebates at Walgreens), and don't feel bad if you print a coupon for some great deal, then can't find it. Right now, I have coupons for 'fast fixin' chicken nuggets - if I could find the deal here, they would be free. I can't find the deal here. More importantly, we don't eat chicken nuggets. So why was I even printing them? My point - go slow, don't lose your head...and keep your money where it belongs - in YOUR bank account!
So...what deals are you finding this week?