All three of us are avid readers. We like a movie once in a while too. The kidlet is learning American Sign Language and about a hundred different songs. I host a little country book club at my home the first Thursday of each month, and hubby listens to books on CD in the car.
And we rarely buy any of the books or media. Instead, we borrow most everything from the library.
Okay, we do buy books. I have the bookshelves full of them to prove that, but we like to 'try before we buy'. We figured out we could get our books from the library, and then if we decide a book is a must-have, we go ahead and make a purchase. I can't tell you how much money that's saved us on books we thought we wanted. And how many magazines or videos do you read or watch over and over again? In a way, it's a waste to buy them for one use. I like the idea of lots of people using the same copy of a book, movie or magazine. It seems like a much better use of natural resources.
I was talking to hubby about it, and we figure that we each read about a book a week - so that's a hundred right there. Add some cookbooks, about 25 movies a year, a few tv series, some magazines, some exercise tapes and probably 20 books on CD, plus all the kid books, kid music and video and we are saving a LOT. Thousands, even if we were just renting the movies!
These days, most libraries have online card catalogs, so you can search them from home to see if they have what you're looking for. The district in our area has story times for infants, toddlers, preschoolers and child care groups, as well as reading clubs, homeschool groups and a summer reading program. Inside a brick and mortar library you can get computer access, make photocopies, and read newspapers. Many libraries across the nation have more of a 'bookstore' feel to them. They are really getting away from the shushing librarian and 'quiet only' places they used to be. (But seriously, turn off your cellphone!)
As nice as our district is, they don't have every book that I want. For new books, I can make a 'purchase request'. If they buy it, they'll send it to me first. If they don't buy it, they will try to get it on interlibrary loan from another district. Interlibrary loan is a wonderful thing, let me tell you. I have borrowed books and music from places all over the US. When I worked for the district (I am a former children's specialist) we would get in interlibrary loans from Australia, England - all over the world!
With the price of gas, we do our best to stick close to home. Happily, the local library district has a bookmobile stop about 2 miles from our house. Happier yet, the bank donated some land, and they're going to build a library out here! But really, the bookmobile is great.
Wait for mama, please!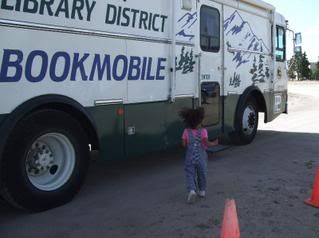 Seriously, we really love the bookmobile. The setup is smart - adult books on top, children's books all along the bottom. Some movies, some music, magazines...a little bit of everything.
We place holds on items, and they load them up and bring them out for us. We also browse, and pick out a few things that are on the shelves.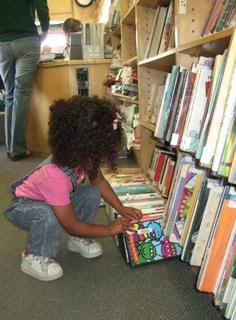 Even if your library seems little and limited, go and talk to the librarians - chances are they can help you get just about anything you need. You can learn and grow, build community, save some trees and save money at the same time!