Hey, Mom. I'm thinking you're busy preparing for your trip, so you shouldn't see this anyway, at least not until later. But if you're reading this, right now, STOP...or you'll ruin the fun. (My MIL isn't online, so we should be safe on that side of the family.)
(Seriously, Mom. Last chance.)
So why even post this? Because if you're still looking for something to do for Mother's Day - something non-commercial, earth friendly, and kinda sweet - AND if your Mom or Grandma lives nearby (and you don't have to mail stuff), well, then, you'd still have time to make these. I DO have to mail these, so I'm getting them packed up tonight!
If you buy frozen concentrated juice (and if you're a packrat, like me), chances are you have a few of the metal lids in a drawer somewhere in your kitchen. Let's keep those puppies out of the landfill and put them to good use. They make awesome 'frames' for fridge magnets!
You will need:
Metal 'juice lids'
Artwork (on cardstock), photos, or collage material
Rubber Cement
All-purpose glue
Magnets
Scissors, or a Circle Cutter
Maybe some glitter.
Here's what you do:
Depending on the age of your child, have them decorate, or use photos. If your child is making a mini picture, cut out the circle first. The cardstock or photo circle needs to be about 2 inches in diameter. I printed words, then little sweetie colored them. I let her decorate first, because for a toddler, those little circles are difficult to work with.
I have one of those nifty circle cutters, so I used that to cut the cardstock. You can also trace around something, make a template, and use that...or just freehand it, if you're good at that sort of thing (I'm not.)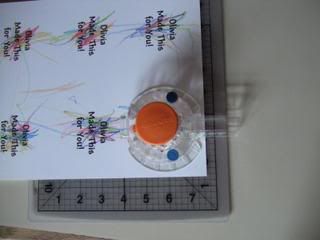 Once your circles are cut out, use rubber cement to glue them inside the metal lids. How cute is that? Oh, and if you cut yours with scissors, and they aren't perfectly even, and you're the sort of person who is bothered by that (or if your Mom is the sort of person who is bothered by that), then put glue all along the edge of the cardstock/photo...sprinkle it with glitter, tap off excess and let dry. Glitter fixes everything!
Once they're dry, glue magnets to the backs. Pretty easy, since the magnets already want to stick to the metal.
To round out our gift for the Grandmas, little sweetie made them each a lovely fingerpainted picture, and we did some more magnets with photos. You can also glue objects into the 'frames'...wee seashells from a vacation, pretty buttons, snips of paper...you get the idea. Anyway, we made a handmade card and a magnet set for each Grandma. What do you think?